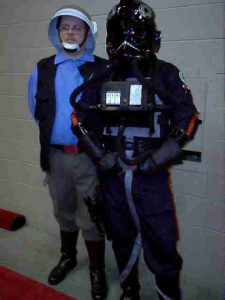 As I mentioned a few weeks ago, one of my focuses for 2017 is going to be creating more things. Not just content for the blog, but also working on hobby projects that I have neglected over the past few years. Mainly, I'm referring to costuming, prop building, and model building. With this in mind, I've started work on the first few projects, which will get completed before I start another project like them (costume will get done before I start another costume, etc…). These will get their own progress posts (as well as videos?) as I work on them, but I felt like giving a brief rundown of what I'm starting with this month.
Costume – Rebel Fleet Trooper (Star Wars: A New Hope)
Let's set the WABAC Machine to Gen Con, 2005. This was my first convention since San Diego Comic Con in 2001, and I was in yet another Star Wars costume, this time the Rebellion's version of the Red Shirts, a Rebel Fleet Trooper (photo shown above, with unknown TIE Pilot). Since that time, I've worn it a handful of other times, mainly at Halloween, including an evening at Mickey's Not So Scary Halloween Party at Disney's California Adventure in 2009, where I had fellow Star Wars costumers with really kick-arse costumes comment as to how cool it was (hashtag humblebrag). Over the past few years, it has been languishing in a storage unit in Southern California, until I was able to retrieve it this past December. It was in rough shape. The box it was in was filled with rat droppings, so all of the soft parts are currently in a bag to be dry cleaned in the next few weeks, and the rest has been disinfected and scrubbed. The helmet (pictured to the right) has yellowed, and become scuffed up. The leather on the belt and holster has curled and dried a bit, and it's just in poor condition. This leads me to where I am, right now.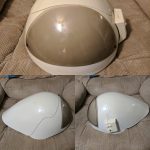 I have many partial costumes, but I really like this one. In order to be active with Star Wars Indiana, and the Rebel Legion, I need a "screen accurate" costume that passes the standards set by the Rebel Legion (link to those here). So, I'm looking, and what I have is a helmet that needs some clean-up work done to it, I have a belt that needs reconditioned, the corners ground off the buckle, and metal project boxes attached, a holster that may or may not be accurate, a blue shirt that is pretty good but might not fit any more, pants that I think look good but aren't accurate, and a vest that might as well go in the trash. In addition, I have jack boots that work for it, as well as the Rebel pilots, and a blaster pistol that I'll talk about in a bit.
I need to get a new vest, based in part on new references that have become available in the past twelve years. This will be provided by a local costumer, whom I've been fortunate to know for a good number of years, and is a master with a needle and thread. If the shirt doesn't fit, then I'll also have to talk with him about getting one that matches and meets the current standards, and luckily acceptable pants are off-the-shelf BDU-style pants in grey. I'm going to start looking into more of this in February, after I get some debts taken care of, but I'm at least going to be able to get some of the stuff I already have in my possession taken care of. Which brings us to the second project…
Rebel Fleet Trooper Blaster (DH-17)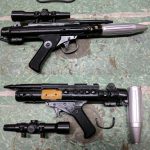 Labor Day Weekend in 1997. Over at the Marten House on W. 86th St in Indianapolis, there was a new convention called ConSept. As I was there, I saw a "gun" on a table that, upon closer inspection, looked like a blaster from Star Wars. The price was right for me, so I picked it up, and it sat in a gun case for years, needing some pieces attached. Over the years, this has been rebuilt, repainted, broken, rebuilt, and I'm learning that it was made out of fairly brittle resin! However, for a costume, it works, and it's cheaper than the Nerf blaster that many people have been using for their costumes. However, it's going to take some work. I'm going to take it as far down to the resin as I can, reattach the the pieces that have broken off, fabricate a reasonable facsimile of the parts that are missing, and give it a new paint job that isn't just a gloss black, like it currently has. I'm hoping to make this piece not be an embarrassment, and I'm looking forward to dusting off some skills I know I used to have, and see how bad they've atrophied over the years.
Now, that is to practice skills that have atrophied, and to complete a costume. However, there is a new skill I'm looking to acquire!
The Indiana Geeking Puppet
Last week, I ordered some patterns through Project Puppet. These patterns are going to be used to create a "Mini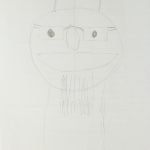 Me" for the YouTube channel. Looking over these patterns, I have started to feel a bit intimidated, but I'm committed (or, at least I should be after dropping $33.96 on PDF files!) to creating this guy, because I think it's going to be a ton of fun! I have already started located my sewing supplies, ordered some pieces from Amazon to make the cutting and trimming easier, and today I'll be hitting Jo Ann's to take advantage of a couple of 50% off coupons to pick up some fleece and some foam, so I can get Version 1 started on. I've also done a really rough sketch of what I'm looking to do, and I'm locating patterns for a miniature fez (you can find ANYTHING on the internet!), as well as starting to look at clothing that…. ah, no spoilers! Let's just say I'm hoping to have a Mini Geek V. 1 started by the end of this weekend, and getting some information up on the construction next week!
I know, I know… I've been talking about stuff like this for the past few years. This year, though, I'm already well in the process of planning and procurement, and it's stuff that's more than a Halloween costume, or something that's going to just sit on a shelf gathering dust. This is all stuff that I want to use for the blog, or use at different events around Indiana.
So, wish me luck!
Tony