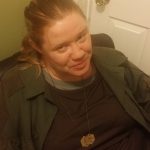 I've been pondering for some time what my contribution to Geeking in Indiana will be. I used to write a lot, but I don't know if I'm any good. I would love to do the podcast from time to time, but I am super critical of my voice so I wouldn't be able to help with editing and I would probably never listen to them. I also have this problem of over sharing sometimes. I guess that is what Tony is here for, so I am going to share my thoughts and I'll let him edit the heck out of it so it is suitable for public consumption.
I am Lizz. Yes, the one Tony hasn't shut up about on social media for nearly a year.  My daughter TeenGeek (not to be confused with the Geekling) and I, along with Zoey the Pitt and London the cat have invaded the Geek Cave. Luckily, we have lots of fandom in common and so far there have not been any arguments about which is better Star Trek/Star Wars or anything like that.
A little about me… I am a social worker, and I am passionate about a lot of social issues, so if you follow me on Facebook or Twitter you'll find out all about those. Eventually I would like to start my own blog and podcast by social workers for social workers, but life is too crazy for all of that right now.
I am a mom, two grown and in the process of getting out on their own. The youngest is a teenager and has her own favorites. She likes a lot of the same things we do, but sometimes we'll have her watch something we think she'll really like and she'll get bored with it and go to her room. Teenagers, I guess it's what they do.
I am a Geek, I may have been in denial for a while, but I have found by embracing my Geek and letting it show a little in the workplace it has helped me to connect with clients. Weird, I know. I'll type up a couple of stories about that later.
I grew up watching Star Trek with my dad. I watched the Star Wars movies so much I had a lot of the lines memorized and saw all of the behind-the-scenes stuff. I remember watching Buck Rodgers, and several shows I don't remember the names of. Indiana Jones, Goonies, Karate Kid, Back to the Future, Ghostbusters, and the one with Val Kilmer, all I remember is it had something to do with lasers and blowing up a house with popcorn (Real Genius – ed.). Then Star Trek: The Next Generation came out, followed by Voyager and Deep Space Nine.
I loved science and science fiction, I grew up and did my best to pass that on to my kids. Together we watched Stargate (SG-1 and Atlantis), Battlestar Galactica (reboot), the kids were hooked on Myth Busters for a while which gave them an appreciation for real science that they weren't getting in school.
SOMEONE introduced us to Firefly and Serenity, we discovered Doctor Who and thanks to Netflix we found all kinds of sci-fi series that only lasted a couple of seasons, just long enough to suck you in and break your heart.
I'm still not sure what my contribution will be. I will get into the habit of writing again for fun. Case notes have no room for opinion or entertainment so it might take me a while. You can probably expect a feminist/social justice perspective… unless Tony edits that out (Like my readership would let me live if I tried – ed.).
Lizz