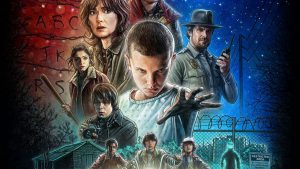 Its been a long time coming.
Usually, when some new movie or show becomes a minor/major phenomenon, I try to check it out right away. I like to be on top of my game when it comes to things I know my friends will want to talk about at game night. However, when Netflix's hit original show Stranger Things first came out, it somehow managed to go under my radar for a long time. After a while, all of my friends, coworkers, and siblings were telling me how great it was and that I needed to watch it, but for some reason even I can't figure out, I never did. The show has everything I love: 80's iconography, a creepy synth score, shades of horror, and Dungeons & Dragons. So it really baffles me that I waited so long to check out this awesome show!
Stranger Things tells the tale of what happens to the small (fictional) town of Hawkins, Indiana, when a young boy named Will Byers disappears. I won't spoil anything, but what follows is intrigue, adventure, and lots of cool horror/sci-fi elements that reminded me of why I love being a geek. The aesthetic of the show, from the costumes of the three main boys to the Stephen King-esque font in the openings, just filled me with excitement and wonder from beginning to end. I love anything with a 1980's aesthetic (even though I was not alive through the 80's), and this show just oozes 80's-science-fiction-fantasy-adventure film at every turn.
What really made the show for me, however, were the performances by the principle cast. Winona Ryder blew me away as Joyce Byers, the heartbroken and possibly unstable mother of the missing Will. It was a stroke of genius to cast such a well known 80's actress in one of the lead roles, and her performance helped make the show as fantastic as it was. David Harbour, playing the police chief Hopper who picks up the trail to try and find Will, had a brilliant performance that made me wonder why I had never seen him in anything before. And I have to say: I don't mind Harbour being cast as Hellboy after his awesome job in this show!
The really breakaway performances however came from the kids: Finn Wolfhard as Mike, Millie Bobby Brown as Eleven, Gaten Matarazzo as Dustin, Caleb McLaughlin as Lucas, and Noah Schnapp as Will Byers. Usually, child actors don't really give mind blowing performances; we give them the benefit of the doubt because hey, they're kids. But these kids can act. I was not expecting these kids to blow me away like they did. The three main boys (Mike, Dustin, and Lucas) really managed to capture that child-like wonder for adventure in their hunt for their friend, and made me not only experience a variety of emotions over the course of the 8 episodes, but also made me reminisce about the adventures my friends and I had when we were younger. But the real breakout was Millie Bobby Brown, whose performance as Eleven was heartbreaking, awe-inspiring, and is definitely going to take her places in the acting world.
I don't know what possessed me to put this show off for so long, but I regret not  watching it sooner. It is so incredibly good. This is the kind of show that I recommend to everyone, even if I know they aren't big fans of horror, fantasy, or sci-fi. Stranger Things is a show that I think everyone should watch, and everyone can get something out of it. Personally, I'll be re-watching this season over and over, waiting (im)patiently for season two!
Thanks for reading everyone. See you next time!
-Grant