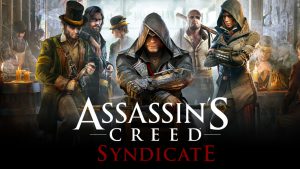 I have a vivid memory of my first experience with the Assassin's Creed franchise. I was in middle school (possibly a little earlier, my memory isn't flawless!), and I was staying over at my friend Jobe's house. It was like 4am, and us crazy kids were hanging out in his back room playing video games and listening to music. After a while of trading off with random free mmos that we downloaded onto his dad's computer, he booted up his Xbox 360 and showed me this new game he got called Assassin's Creed. This game blew. my. mind. You could climb up buildings and jump off, soaring into a hay-bale and continue on fighting afterwards? My little brain couldn't handle the sheer awesomeness that came from that game. Many years and many new installments in a huge franchise later, I am still a fan of the Assassin's Creed games. This past holiday season, I received the one game that seemed to slip through my grasp as a gift: Assassin's Creed Syndicate. This game came and went with little attention from my typical sources on the internet, so I was intrigued. Was it bad? Or was it a hidden gem that many people seemed to skip over?
In my opinion, its the latter.
AC: Syndicate is the ninth major installment in the Assassin's Creed franchise. In it, you take on the role of not one, but two playable protagonists: Evie and Jacob Frye, two sibling assassins in the streets of turn-of-the-century industrial London. Evie is a more traditional assassin, wanting to fight the Templars and find the piece of Eden in London. Jacob on the other hand wants to break off and start his own gang to conquer the streets.
This game is fast-paced, action-packed, and a solid addition to the Assassin's Creed mythos. Two playable characters adds a whole new element to the already engaging story, and the industrial London setting probably the best one so far in the franchise. The gameplay has received some updates from previous installments and is now smoother than ever. On top of all that, the game is just gorgeous. The attention to detail in the huge London map is astounding. There's even a "secret" set of missions that take you forward in time to World War One, and that London looks amazing too!
I was worried going into this game, mostly because no one had talked about it when it came out. The game that released before Syndicate was met with mixed to negative reception, so I feared the worst. The franchise, in many peoples' eyes, has grown stale, so I was worried it might just be more of the same. I was so happy to have my fears discredited. I truly recommend all fans of the Assassin's Creed franchise check this game out. Even if you aren't a fan of the franchise, I recommend giving this one a look, just for the setting alone.
Assassin's Creed: Syndicate is rated M for Mature, and features blood, cursing, violence, and death. The game itself is truly a blast, and I'm very glad I didn't skip it.
Til next time,
Grant