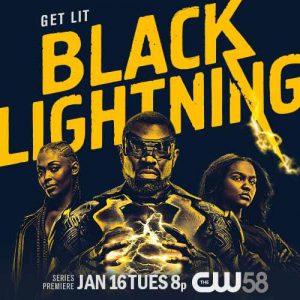 In my humble opinion, the CW has taken DC characters who deserve more time in the spotlight and delivered expertly, creating enjoyable, action-packed shows that really cement DC's place as the successful TV comic book company. Of course, the shows aren't flawless: each of the four mainstay DC shows have their ups and downs, but I've enjoyed each one (with the exception of Supergirl, only because I haven't caught up!) regularly since the start. The creation of the Arrowverse, allowing the CW to crossover their properties pretty much whenever they want, is a genius creation that takes the already enjoyable properties and creates a multiverse akin to the classic comics. So far, each show has been based on or involved characters that I'm fairly familiar with. So when it was announced that DC hero Black Lightning would be getting his own show, but that show would not be connected to the wider Arrowverse, I was skeptical. Could the CW really catch my interest with a show about a character I don't know, that isn't in any way connected the shows I am familiar with?
After watching the first two episodes, I have to say, the show has got great potential. I was super into the first episode (which may be the best first episode of any of the CW DC shows), and I enjoyed the second even though it wasn't nearly as good. Black Lightning follows high school principal Jefferson Pierce, a man who is wholly dedicated to his students and his family, and used to be a vigilante hero Black Lightning. When the show picks up, he is retired from being a hero, and he is trying to protect his daughters Jennifer and Anissa from The One Hundred, a criminal organization that has risen in Black Lightning's absence.
The show is fun and action-packed, and I enjoyed most aspects of it. Black Lightning's costume is awesome, and his fight scenes are well-choreographed and fun to watch. The plot so far is also very interesting. I like watching Jefferson struggle between keeping his family or returning to the Black Lightning post, which is played like an addiction he has to fight. He doesn't really want to go back to being a hero; he is actually suffering physical withdrawals from not using his powers. It is refreshing to see this unique spin on the hero-wants-to-quit story, which I honestly think has been played to death.
However, there are some things I don't enjoy about the show. For the most part, the acting in Black Lightning is ok, with China Anne McClain's performance as Pierce's daughter Jennifer being a highlight. Unfortunately, most of the acting comes off as wooden, though I do have hopes that it will get better as the show finds its footing. I also with that Tobias Whale, who is being set up as the show's main villain, showed up a little more in first two episodes. They are setting him up as this shadow-manipulator, but it makes him seem not so intimidating.
Overall though, I enjoyed the first two episodes of Black Lightning. I'm excited to see where the show goes, and I anxiously await the inevitable day they officially make it part of the wider Arrowverse. If you're a fan of the other CW DC shows, then you should enjoy Black Lightning as well.
It feels good to be back in the game writing posts again. I look forward to what new media I can consume in 2018!
See you all next time,
Grant