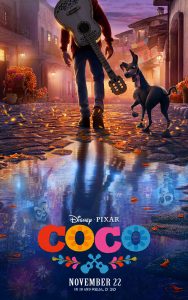 Its not often that I come out of a movie, and almost a week later, I'm still thinking about it on a deep, emotional level. Due to my child-at-heart, oftentimes Pixar movies are some of those that stick with me. The childlike sense of wonder mixed with very emotional and passionate storytelling always leaves me with something to remember, or contemplate, or cry over (*cough* Up *cough*). Needless to say, I love Pixar movies. I was fortunate enough to go see Coco in theaters recently, and I am still thinking about it deeply as I write. I don't even feel the need to tease my thoughts or end the opening paragraph on a cliffhanger like I usually do; Pixar's Coco is an incredible film, with brilliant music, animation, and heart.
Pixar's Coco follows a young boy named Miguel, who lives in the small Mexican town of Santa Cecilia with his family. Earlier in his lineage, his great-great grandfather was a musician who abandoned the family, leading all of his descendants to hate music: except Miguel, that is. In attempting to take a guitar from a graveyard, Miguel ends up transported to the land of the dead, and needs to find his way home.
The movie takes place on Dia de los Muertos, or Day of the Dead, and is rich with beautiful culture. The cast did a wonderful job bringing all of their characters to life, but Gael Garcia Bernal and Benjamin Bratt are the standouts to me, as Hector and Ernesto de la Cruz, respectively. I've always been enamored with Dia de los Muertos as a concept, and this movie brought it to life magically. The themes of family and remembrance struck home hard with me, and I am unashamed to say I was brought to tears more than once!
My favorite parts of the film overall, however, were the music and the animation. With each subsequent film, Pixar continues to blow away the boundaries of 3D animation, and each film looks more and more real. Coco is no exception, blending fun and lighthearted animated characters with mindblowing, hyper-realistic animated backgrounds and environments. There is one scene in particular where I swear, the character is made out of real bone!
The music is brilliant, and I had actually been listening to the soundtrack on repeat before seeing the film. Standout songs like "Remember Me" (which is up for an Oscar, by the way!) and "Proud Corazon" are some of my favorites, but the voices and composition are so beautiful that each time a guitar started up on screen, I got a little teary-eyed. The soundtrack also features every song in Spanish as well as English, and I have to say, I think they're even more beautiful that way. As you may know, I'm a huge fan of musicals. There are some musicals where the plot is great but the music is lacking, or vice versa. But good musicals manage to blend both perfectly, using the music to compliment and further the messages of the plot. And Coco, my friends, is a darn good musical.
I can't recommend this movie enough. The film's messages on family are so beautiful, strong, and important, that I think anyone can benefit from seeing it. If you are a Pixar fan or animation fan, definitely check it out. If you're just in the mood for a good cry, check it out. If you have no particular reason, still check it out. This movie has definitely made my to-buy list, and I cannot wait to re-watch the whole thing, in Spanish this time!
Thanks again for reading, everyone. I appreciate it.
-Grant