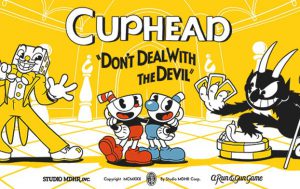 As a gamer, its hard not to feel like the industry is getting stale sometimes. With every years comes countless games that, quite frankly, look the same, and feel the same, and are just generally more of the same. While I am not trying to speak ill of any games that anyone enjoys, I try my hardest as a gamer to put my money towards games that seem unique, whether that be through gameplay, visual style, or anything else that breaks from the norm. Late last year, this little indie title called Cuphead was released. It had been hyped at showcases for the last couple years, but the game was finally here, boasting a unique animation style and what looked like solid run-and-gun gameplay. I bought it very soon after it released, hoping to experience something new and refreshing in the world of gaming.
As many of you probably know, Cuphead went on to be a huge phenomenon, and rightly so: this game is incredibly well-made, incredibly difficult, but most importantly, incredibly fun!
Studio MDHR really knocked it out of the park with this one. An homage to the "rubber hose" style of animation of the 1930s, this game is a painstakingly recreated love-letter of a time gone by. Each frame of animation in this game was hand drawn, every background was painted in watercolor, and the game is just beautiful. If you haven't seen any footage from Cuphead, do yourself a favor and check it out; the game captures the 1930s aesthetic perfectly, looking just like an old cartoon. The music was all recorded live as well, and the bouncy, exciting jazz and big band stylings of the game's soundtrack are just amazing. I love jazz, and I love big band swing, and the game even features some barbershop (!!!), so I was taken in immediately by everything this game has to offer.
Now, this game is not for gamers who want something simple and laid-back to enjoy on a break. This game is hard, and poses a challenge to even the most seasoned of gamers. Featuring run-and-gun style levels mixed in with frequent and original boss battles, this game pushes you to your limits with it's difficulty. But here is the amazing thing: though I will admit to dying countless times (and I still to this day have not beaten the game), the game never once felt unfair. The gameplay is so measured and polished that each time I died, I knew it was my fault. The game is crafted so well that the difficulty feels like a mountain to be climbed, not a gimmick to be frustrated with (thought you will get frustrated!).
Most importantly, above all the other things I've talked about, Cuphead is just so much fun. As I rapidly approach college graduation, I find myself with less-and-less time to enjoy things like video games, and the work load can get stressful. But Cuphead, even with it's difficulty, gave me a sense of joy and energy I hadn't felt in a while. I could pick up my controller and play for 30-or-so minutes between assignments, and I kept looking forward to coming back to it. It really helped take the edge of life off, if only for a little while.
Though I would really like to recommend this game to everyone, I know that its probably best to say that if you're just a casual gamer not looking for a challenge, perhaps you should just check out someone's gameplay on YouTube. However, if you are a regular gaming looking for a difficult yet wonderful time, then Cuphead is the game for you. You can get the game on Steam or on Xbox One, for the low price of only $20! But don't let the low price fool you; Cuphead will be giving you a thrill for a very long time.
Thanks for reading everyone,
Grant