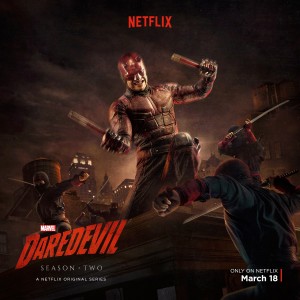 Ooh boy. I've been waiting for this for a looooong time.
Ok, not really that long, but still. I was blown away by the first season of Daredevil. From the outstanding choreography, to the fantastic performance of Wilson Fisk by Vincent D'onofrio, Marvel's first Netflix-based outing was a phenomenal success. My freshman English teacher, and good friend, is a massive Daredevil fan. However, I was never very interested in the character. It took me a while to find the time to watch it, but I eventually made time a few months ago in October. Needless to say, I was impressed. The show managed to make me want to learn more about the character, and make me excited for another season.When news broke that season two was going to feature Frank Castle, a.k.a. The Punisher, I knew that I was going to have to check this new season out sooner than the last.
Now, I must warn you all that this post will not be very long. I have only managed to watch the first 8 episodes, and the season is made up of 13. This article, similar to my Jessica Jones write-up, will just feature my initial thoughts and feelings regarding the new season. I hope to have the rest of the season done by next week, and my final write-up done by then.
So, what were those aforementioned thoughts and feelings I had?
So far, I dig it. Right off the bat, this season is very different than the last. Season one had to focus on building up Matt Murdock's transformation into Daredevil, but that's all done now. We get to see Daredevil kicking butt and taking names, and that is quite frankly awesome. I appreciate the focus on Foggy and Karen, bringing the characters into their own instead of treating them like they are inferior to Daredevil. Jon Bernthal is phenomenal as Frank Castle, with a certain cemetery scene in episode 4 bringing me to tears. Elektra has been interesting so far, though I can't say I have many thoughts yet, for I don't believe her story has been fully realized yet. So far, I really enjoy the season.
However, like with everything, I did have problems. The biggest and most important of which is the lack of a character as deep and incredible as Wilson Fisk last season. Every episode, Fisk kept me watching, even though I hated his guts. D'onofrio's performance was mind-blowingly good, and I truly hated myself for sympathizing with him. I felt that season two has lacked a character like that so far. While Bernthal's Punisher is a great character, and a great performance, he doesn't even come close to Fisk. This lack brings the season down a little bit, but it still holds up very well.
I love Marvel, and so far Netflix has been a great way for them to tell the real stories without holding back. I am looking forward to finishing this season out, and I expect the latter half to be even better than the first.