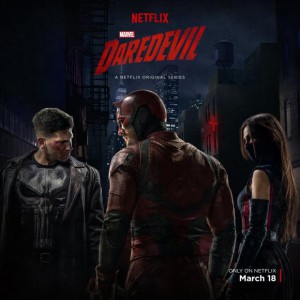 I've come to an executive decision. From now on, I will refrain from splitting articles of over one subject into two parts. I hate that every time I split in article in two, I rarely have time to finish the show before its time to write the follow up. So, from now on, I'll finish the show/game/media before writing my post on it. Now, on to Daredevil!
The second half of season two, in my opinion, slowly declined until the end. While the first half of the season set up Elektra, and Punisher, and all of these new plot points, the second half struggle to keep them all balanced without feeling like a bit of a jumbled mess. I kept waiting for the clever point that tied Elektra's story in with the Punisher's story, but it never came. I enjoyed both separate plots in their own right, but I was really hoping they would come together and resolve in the end. Elektra's story was nice, and brought in many of the more mystical elements from Daredevil's comic past. Punisher's story was more of the grounded, street-level type from season one, but the action and brutality was increased to 11.
And that brings me to my next point: the fight choreography. The beautiful, beautiful fight choreography. Season one had some of the most intense, art-like fight scenes I have ever scene, and season two was no different. The choreography is exceptional and extremely believable, and I never got tired of watching Daredevil, Elektra, and Punisher kicking all types of butt. There wasn't any scene as intense and wonderful as the hallway scene from season one, but a particular scene on a stairway early in season one came very close.
All around, the performances were on par with last season. Charlie Cox killed it as Matt Murdock, and I was really impressed by a certain scene early on after *SPOILER BEGINS* Punisher shoots him in the head. *SPOILER END* I have to call extra special attention to John Bernthal's portrayal of Frank Castle. While I stated previously that no performance was as good as Vincent D'onofrio's Wilson Fisk last season, Bernthal came pretty dang close. Bernthal very clearly poured his all into the performance, and his passion is clear. Frank Castle was, in my opinion, the deepest and most fun-to-watch character this season.
Overall, I don't think season two was as good as season one. But, that doesn't mean it was bad. While the story was a bit all over the place, especially towards the end, it was still intriguing and fun. I do believe that Daredevil is some of Marvel's best, and some of the best comic book related media out there in general. I recommend this show to everyone, but it is a Netflix exclusive. Along with Jessica Jones, Marvel has been rocking with their Netflix shows, and I'm extremely excited for Luke Cage this fall.
Who knows what I'm gonna write about next week? I'll figure it out. See you then!