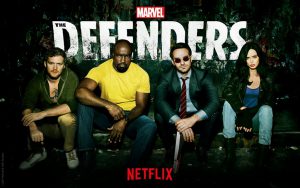 Here it is. This is what it's all been about, what all the Marvel Netflix shows have been building to. New York's finest street-level heroes have all gathered to face a common enemy; Daredevil, Jessica Jones, Luke Cage, and Iron Fist are teaming up to face the Hand. When the first trailer for The Defenders launched, I was so beyond excited. The action sequences looked great, my favorite heroes were all teaming up, and Sigourney Weaver was the main villain! Everything about this show caught my Geek interest. However, initial online opinions weren't great, and I began to fear the idea of disliking the show I've waited so long for. This last week, I got through all 8 episodes in one setting.
And I really, really enjoyed it.
The Defenders was just as exciting as I hoped it would be. Seeing all these heroes, who's solo shows I thought were all great, was such a treat to me, though I will admit it bordered on cheese sometimes. I was nervous at first if the team dynamic would ruin the Marvel-Netflix dynamic, but my fears weren't realized. I believe The Defenders is now my second-favorite Marvel Netflix show.
Usually I spend some time talking about the cast and their performances, but I don't think I need to so much for this one. All of the actors were just as good as they were in their solo shows, and were such a frickin' joy to watch. While I loved him in Iron Fist, I think Finn Jones' performance was majorly stepped up this time around, and I loved his role in the show. The team dynamic was awesome, and the same can be said for the five leaders of the Hand; when on-screen together, I loved the villainous-yet-relatable chemistry they shared. However, as much as I love her, I thought Sigourney Weaver's Alexandra was rather boring to watch, when by herself.
I don't know if this is common knowledge or not, so I'll through up a *SPOILER WARNING* just in case, but my favorite part of the show BY FAR was the return of Elektra. During Daredevil Season Two, I wasn't a big fan of Elektra; her story felt rushed, bland, and overshadowed by the Punisher. However, in The Defenders, she really stole the show for me. I was often enjoying the team action between our titular heroes, but quietly yearning for the show to return to Elektra and her situation with the Hand. Every scene she was in was enthralling, and I was so pleasantly surprised.
One of the common complaints that I saw online was that the Hand weren't very interesting as villains. Many thought that the whole ninja thing got boring fast, and I have to say that I agree. The unnamed Hand minions weren't very enjoyable to watch, even when they took part in awesomely-crafted fight choreography. However, as I stated before, I really enjoyed the leaders of the Hand, so I think the show made up for it with them.
Overall, I enjoyed the show heavily, and was entertained enough to watch it all in one sitting. And while I know many can't afford the time to do it, that is how I recommend watching the show: all at once. Seeing the gang finally get together was so pleasing to me, and even all of the supporting characters got cameos or full-blown roles. This world that Netflix and Marvel has created is so much more interesting to me than the movies, and I cannot wait to see where they go next.
I recommend this show to all fans of the Marvel-Netflix collab, and those who just like fun superhero romps. I cannot wait to watch and write about the next show, The Punisher, due out later this year, but until then, you'll just have to wait and see what's coming next.
…alright, I have no idea what I'll write about next. But I'll figure it out.
As always, thanks for reading.
-Grant