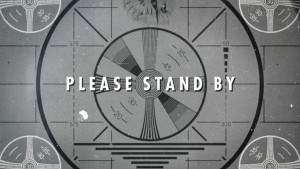 Oh, how I have waited for this game. I waited for so darn long! After playing Fallout 3 back when it was released in 2008, I have longed for more Fallout excitement. New Vegas, the next game after Fallout 3, was able to tide me over for a while, but it ultimately felt like more of the same (in terms of game mechanics). I was ready for something new, something improved. Then one day in June of 2015, I awoke to Facebook exploding over some new trailer. Lo and behold, it was Fallout 4.
Let's just dive in, shall we? Fallout 4 took the open-world first-person shooter formula and improved upon it greatly. Using a revised version of the Skyrim engine, Bethesda has managed to keep the feel of the post-apocalypse alive and well. Gone (for the most part) are the days of long loading screens, as most of the world is rendered all at once. The new Commonwealth setting, the nuclear ruins of the Boston area, was created beautifully, and I have heard from friends that they actually recognize several locations within the game from their real world counterparts. The enemies are all terrifying and original, and stronger enemies appear as you level up, keeping the combat fresh and difficult.
My absolute favorite addition to the game-play of Fallout 4 is the inclusion of settlement building. Every piece of junk you find in the Commonwealth can be broken down into parts, which can be used to build furniture and resources for various settlements. Each settlement requires a certain amount of food, water, beds, and defense that you must provide for them. Eventually, you can get a perk that allows to you establish trade routes between your settlements, allowing access to all of your supplies no matter where you are. At first, I decided to ignore the settlement building portion of the game to focus on the adventure and story. But once I planted my first carrot, I was instantly hooked. Eventually, it got to the point where I would grab every useless piece of junk I could find, and I would have to make constant stops back at my base to drop all of it off.
The characters within the game are all rich and original, making each new location you discover a fantastic new adventure. One of my personal favorite encounters involved the U.S.S Constitution, the actual boat, stuck on top of an old bank building. The ship is full of robots who believe themselves to be the crew of the ship, and they request your help to put the ship back in the ocean. My absolute favorite addition to the Fallout world are the Synths, synthetic humanoids who range from very robotic to completely indistinguishable from humans. One of the potential companions you can acquire is a Synth named Nick Valentine, a prototype whose brain was filled with the memories and personality of a pre-war detective.
In terms of story, I found Fallout 4's to be quite enjoyable. The plot begins with you spending some time with your spouse and infant son Shaun, way back before the bombs drop. Before you can enjoy the day, you are whisked away to the local Vault as the bombs begin to drop. Avoiding spoilers, you eventually find your self on a quest to recover your kidnapped son, 210 years after entering the Vault.
Overall, I really love the heck out of this game. I enjoyed the new setting immensely, and the game-play improvements were a welcome change. Over the course of five days, I clocked in over 48 hours of game-play time. Isn't Christmas break nice? All jokes aside, I would heavily recommend this game to fans of the Fallout series, and fans of good video games in general. Fallout 4 is available for all next-gen systems, which means the Xbox One, Playstation 4, and PC. I can sing my praises for this game all day, but to the Fallout fans specifically, I just have one thing to say:
Welcome Home.
If you want to purchase the game, please feel free to buy it through this Afflilate Link Here! I hope everyone had a wonderful holiday season, and I hope everyone is excited to get back to work and classes.
I know I am.