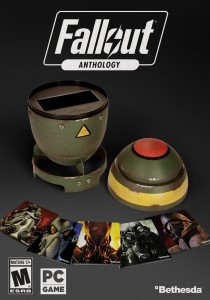 I really love the holidays. I've always enjoyed getting a few days of the year to spend with all of my extended family, especially the ones I don't get to see very often. Nowadays, I really look forward to the holidays because I get a nice long break from college and get to go back home to Kokomo. The gifts are also a plus, and everyone knows its really easy to buy gifts for geeks! I hope everyone that reads the blog had a wonderful holiday season, whatever it is you celebrate. Now, lets talk about Fallout.
Fallout is a series of post-apocalyptic RPGs created originally by Interplay, and later by Bethesda Softworks. The first few games played as a birds-eye view survival RPG, while the later installments have adopted more of a First-Person-Shooter style. The games are loved and regarded very highly by gamers, and I love Fallout. I really really loooooooove Fallout. From the post-apocalyptic setting, to the immersive and compelling characters, everything about the Fallout games is incredible to me. My personal favorite, as well as the first Fallout game I ever played, is Fallout 3. I remember hanging out at my grandparents house around Easter, when my uncle mentioned having just bought a new game he didn't like too much. I expressed interest, and believe it or not, he ended up giving me what would soon become my literal favorite game of all time. I read the strategy guide over and over. I memorized the locations of all the special items, and I beat the game many many times. I eventually got my friend Andrew to buy it, and we would talk on the phone while playing at the same time, putting way too much time into this Xbox 360 game. I have so many awesome memories with the Fallout series, and so the Fallout Anthology is straight up my alley.
The Fallout Anthology is probably the best gift any Fallout fan can receive. It is a set containing the five main series Fallout games, and containing a space for the newly released Fallout 4. The kicker here is the container the games come in; its a full-sized mini-nuclear bomb, with sound effects and all. And it is flipping awesome. I was lucky enough to receive the Fallout Anthology as a gift from my father, and I have been playing it a LOT since. The set comes with Fallout, Fallout 2, Fallout Tactics, Fallout 3, and Fallout New Vegas, all for the PC. Now, I have always preferred console gaming, but something about the Fallout games makes them way more fun on PC. The latter two games, Fallout 3 and New Vegas, also come with all of the downloadable expansions, giving you the full experience of the games.
I have been putting a lot of time into Fallout 2 recently, and I'm having the time of my life. The older Fallout games are pretty hard to come by (other than a few places you can purchase them digitally), and I didn't think I'd actually get to experience the older games. Luckily, they all run pretty flawlessly on my laptop, so I don't have anything to worry about. I can't explain how much I love these games. So, so much.
Have a Fallout fan in your life? Get them this Anthology. They'll love you forever. The set is only $50, which for five full games and all of their extra downloadable content, is a freaking awesome deal. The games themselves are all rated M for Mature, for bloody violence, sexual themes, and drug usage, among some other things. So keep that in mind if planning to buy for the younger fans. The Fallout Anthology is available at GameStop stores, but as with most things, your best bet is buying online, especially through this Affiliate link here. Now, if you'll excuse me, I've got some mutants to hunt.