If there is anything on this planet that gives me a good old-fashioned childhood nostalgia rush every single time, its Pokémon. Child-me was obsessed with the games, the cards, the anime. Everything about Pokémon was incredible to me, in every single way. As I grow older, my obsession with Pokemon has turned to simple enjoyment of the franchise, though I still partake. Pokémon: Sun and Moon both line my shelf of 3DS games, and I did have Pokémon Go installed for a while (until the phone bill increased due to data overuse!). I own many of the other games as well, and the original anime sits on my Netflix watch list for occasions when I want to feel like a child again.
On the subject of Pokémon (if you haven't guessed already), today I'll be boosting three of my favorite things in the Pokémon franchise that I recommend to all the readers out there who love Pokémon as much as I do!
BOOST #1: POKÉMON OMEGA RUBY & ALPHA SAPPHIRE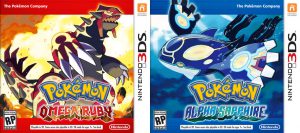 My first boost today is for two more recent Pokémon games that hold a place near and dear to my heart: Omega Ruby and Alpha Sapphire. Released fairly recently (just a few years back), these two games are 3D remakes of the third generation of Pokémon games, Ruby and Sapphire, which just so happen to be my all-time favorite Pokémon games. Now, I put the remakes here over the originals for two reasons: availability and quality. I adore the third generation of Pokémon games, which take you through the tropical Hoenn region with some of my favorite Pokémon of all time, but the games are not that easy to come by, or cheap for that matter. The remakes bring the quality of the third generation to the wonderful 3DS system, showing off awesome 3D models, an incredible soundtrack, and new features to the Pokémon formula. I spent so much time playing Ruby when I was younger, and the remakes allowed me to recapture that childhood bliss as I struggle through college courses. You can find Omega Ruby and Alpha Sapphire here, through my timely Affiliate link!
BOOST #2: POKÉMON INDIGO LEAGUE ANIME
This here's the classic! The Indigo League series is the original anime, which takes place through the Kanto region, setting of the original games, Red and Blue. The series follows plucky ten-year-old Ash Ketchum, as he travels throughout the land in his quest to catch 'em all, and become the Pokémon Master. This show is goofy, charming, and just fun to watch. To me, this is the ultimate Saturday morning cartoon; my friends and I in elementary school would always watch this over the weekend, then reconvene on Monday to talk about the episodes. Whenever I see a rerun of this series on, I have to watch it, and it really makes me feel like a kid again. While the anime is still going on, now in its Sun and Moon phase to fit with the newest games, I've never felt it hold the charm that it had during its original Indigo League run. The anime has also never been able to match the incredible intensity of the original theme song! Currently, the show is available to watch on Netflix, as well as on DVD, which you can find at this affiliate link here!
BOOST #3: POKÉMON MYSTERY DUNGEON FRANCHISE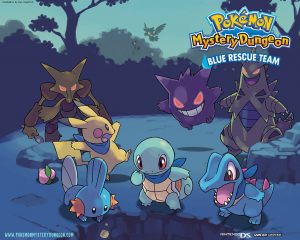 Rounding out the list is a strange entry to the Pokémon franchise, but an entry that I love nonetheless: the Pokémon Mystery Dungeon series. Starting back on Game Boy Advance and opening up the Nintendo DS, the Mystery Dungeon games are a series of dungeon-crawling RPG adventures for Nintendo handheld devices. Taking the role of a sort-of customizable character, you play not as a human trainer, but as a Pokémon, traveling through the world and going on adventures with your Pokémon pals. These games are very long and very difficult, but I have never missed an entry. From the original Red & Blue Rescue Team, to the entry on 3DS, I have played and loved every game in this series. It's a strange concept, but a very fun time. You can find the games in your friendly local used game stores, or online, through this handy Affiliate link!
That's all for today, folks. I am on a Pokémon sugar rush right now, and when I'm not finishing up final projects and exams, I'll be adventuring in the Alola region through Sun & Moon.
Until next time!
Grant