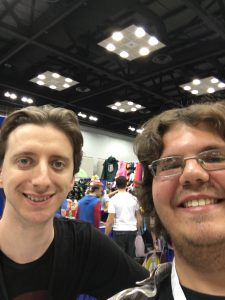 This year's Indy PopCon has come and gone, and though the event itself happened a few weeks ago, it's still fresh in my mind. Each year since its conception, PopCon has been something I look forward to eagerly, and I am lucky enough to have attended it three times now. Unfortunately, I've only been able to attend for one day each year, and this year was no different. However, even though I was only there for one day, it was an awesome and memorable day!
My favorite part of any convention is simply walking the vendor hall, seeing all the cool things for sale and taking in the general excitement and geekiness that fills the room. Indy PopCon has such a wonderful vendor hall every year, and this year was no different! I found myself walking the same aisles on accident, too distracted and gleeful to notice. Due to some financial issues (the cause of which you'll all discover next week!), I didn't have much money to spend this year; if I could, I would drop so much on all the awesome merch! I did however walk away with some amazing Samurai Jack art from the amazing Izzy (@ArtistIzzy on Twitter!) and some great Overwatch and Dear Evan Hansen art for my siblings from the excellent and generous Terry Huddleston (@terryhuddlestonart on Instagram!). Of course, I also visited the awesome Geeking in Indiana table and chatted with Tony a bit too!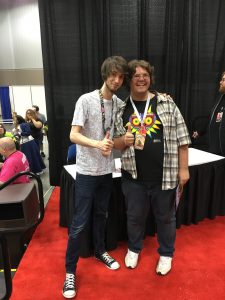 With all the walking around the hall and attending panels that I did, I somehow managed to meet every single guest that I really wanted to this year; it just so happens that I wrote about them too! Throughout the day, I met every single one of the NormalBoots guys, and I am just so happy. I met ProJared, The Completionist, and PeanutButterGamer on the Free Autograph stage, with wristbands that I got in well-kept and pain-free lines. The other guys I managed to find walking around the vendor hall, and I ended up with an autograph or picture with all of them!
However, the best part of PopCon for me came at 10am Sunday morning, when I was at the PBG and ProJared panel. They were doing a typical Q&A type panel, and I was lucky enough to be chosen for a question. Some of you may have seen that when Tony tweeted out my post on the NormalBoots guys a while back, the official NormalBoots twitter account retweeted the link. I thought that was super cool, so I asked them which of the guys runs the twitter so I can thank them. That's when I got news I really wasn't expecting: they all read the post. These guys that I have watched on YouTube forever read the blog post I wrote about them! I was, and still am, ecstatic. To think that these guys who are much more successful than me read and were flattered by my work really blows my mind. As you can probably tell, I'm still reeling.
All in all, I had a great time at the 2017 Indy PopCon, though there's no surprise there. The people who run the con every year do such a tremendous job of making it friendly, entertaining, and worthy of attending every year. It makes me so happy to see all these people coming from not only all over Indiana, but from all over the country, just to experience this amazing convention. If you haven't attended be for, I urge you to do so: Indy PopCon 2018 will be here before you know it!
Thanks for reading everyone. I mean it.
Grant