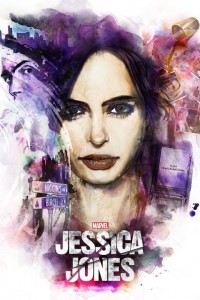 Even though my free time made it sort of a requirement for this series, I do not plan to split every series I write about into two posts. Usually, I'll be able to say everything I want to all at once. In this case, I'm actually pretty glad that I split my write-up in half. The latter half of Marvel's Jessica Jones really ramps up the tension to 11, and my goodness was it phenomenal.
The second half of the show goes through some story arcs I have seen before, but the characters of Jessica Jones makes them all more exciting. Jessica Jones herself is deeply troubled, suffering from a dark past and PTSD. As the show continues to unfold the mystery of her past, you can't help but feel bad for the girl; she has been through so freaking much, its kind of amazing that she keeps herself going. Luke Cage has a troubled past as well (definitely a theme for pretty much every character), but the emphasis is put more heavily on how he can change the future for Jessica. Kilgrave is an evil expletive, yet they delve deep into his workings, and he tries desperately to get the audience to sympathize with him. Even some side characters like Jessica's neighbors Malcolm and Robyn get some development and screen time, and their stories are more or less resolved.
The action is increased for these last few episodes, and while the choreography is no where near Daredevil levels of awesome, it doesn't have to be. Jessica and Luke can definitely handle themselves in a fight, but it feels much less like a martial arts master and more like two people who have just had to adapt. Lots and lots of random baddies get tossed around like trash. Its really rather fun to watch.
Probably my favorite part of the show hands down were the performances from the majority of the actors. Krysten Ritter was phenomenal as a ruined, alcoholic woman who can't seem to bring herself to stop caring. Mike Colter steals the show as Luke Cage (at least in my opinion), bringing a tough-guy attitude with some layers of loneliness underneath. The absolute star of the show, however, is David Tennant as Kilgrave. Doctor Who fangirls beware, this is not the happy-go-lucky adventurous man you are used to. Kilgrave is sleazy, evil, and frankly just really gross, and Tennant meets this description with aplomb. Several shots of his unshaven stubble in particular made me cringe. Ugh, so greasy!
There were a few characters I did not like at all, namely Carrie-Anne Moss's lawyer Hogarth and Rachael Taylor's best friend type Trish Walker. With Moss, I really enjoyed her performance, but I couldn't stand her character at all. Personally, I felt she served no purpose to the story, other than being at the wrong place at the wrong time and mucking everything up. With Taylor, its just the opposite. Her character was an important foil to Jessica, helping her keep going when Jessica just wanted to quit. But geez, Rachael Taylor was having trouble keeping up. Every time she was on screen, she just could not stand up with Ritter or Tennant. It honestly pulled me out of the story a little.
All in all, I really enjoyed the show. I am so proud that Marvel is developing a track record for taking characters no one is familiar with and making them stars. Marvel's Jessica Jones is currently streaming on Netflix, and I don't think I could ever recommend it enough. If you have Netflix, you absolutely need to check it out. And I'm actually going to put an affiliate link in here for the source material. I'm definitely planning on checking out the comics that these characters are from. I really freaking love this show.