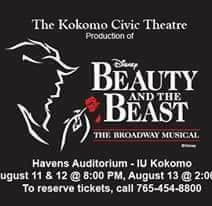 As will hopefully be a tradition in my life for years to come, I have spent all of this summer taking part in a stage production at a community theater. Unlike last year, however, this theater was not in Indy, but in my own home town of Kokomo, Indiana. I love having a creative outlet to express myself every summer, but what I like more than that is to share that creativity with others. And so, it is with Tony's permission that I once again use the blog to shamelessly self-promote, and tell you a little bit about the Kokomo Civic Theatre's production of Disney's Beauty and the Beast.
This has been a year of resurgence for Beauty and the Beast, with the live-action feature film releasing to serious financial success earlier this year. Most people I know went and saw it, so it is fresh in their minds. However, even without the new film being released, I think most people know the plot of Beauty and the Beast simply because of how timeless it is: a young girl named Belle and a prince, cursed into the form of a Beast, see past appearances and fall in love.
When speaking of Beauty and the Beast, I'd like to point out that the animated version is my personal favorite Disney animated movie of all time. With that being said, I love the stage version so much simply because it feels like the animated film, but with more time for character development and fantastic songs. Did you know that in the animated film, the Beast only sings once, as part of a group number? The Broadway version rectifies that by adding in several solos for the Beast, including one of my all time favorite musical numbers (which was sadly omitted from the recent live action adaptation), If I Can't Love Her. It adds incredible depth to the character, and really helps pull this show above all the other screen-to-stage adaptations out there.
Now, you may have noticed that I have talked much of Beauty and the Beast, but not so much about the production I'm in. Well, that's because I was waiting for the big reveal: by some bizarre twist of fate, I was not only cast in the show, but I was cast as the Beast. I cannot express how thankful I am for this opportunity, as this is the first real time I've gotten the lead in a production of this size. And the KCT is really going all out for this one: if what the staff has been saying all summer really holds true, this is once of the biggest productions that KCT has ever put on.
I know an opportunity such as this could present a challenge to my ability to be humble, but I really don't want to brag. I just want to encourage anyone and everyone to come see the show. We all, cast and crew, have worked tirelessly all summer long for this show, and I just really want to share this art with everyone.
The Kokomo Civic Theatre's production of Disney's Beauty and the Beast is being put on for only three performances: August 11th, 12th, and 13th, at Haven's Auditorium on the IUK campus. Tickets unfortunately are not available online, but can be ordered by calling this number: 765-454-8800. Ticket prices are $17 for adults, $12 for students, and $15 for seniors. I truly encourage everyone to come out and enjoy themselves, as you witness how much hard work we've all put into this amazing show!
Thanks for the plug,
Grant