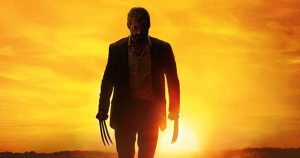 This is it, folks. The end of an era. Hugh Jackman's final performance as Wolverine is at hand. Having starred in four X-Men films (with cameos in the remaining two), one not so great solo film, and one decent solo film, Jackman is finally turning in the claws with Logan. I got the chance to see this recently with a couple of friends, and it was worth it. It was so worth it.
I loved this movie. Absolutely adored it. Due to the newness of the film, and a general want to not be a jerk, I will keep this post relatively spoiler free. In his final outing, Jackman's Logan is nearing his end. With healing becoming less and less reliable, he makes a cross-country quest with a fading Professor X and a new addition, the young Laura/X-23. The plot of this movie is definitely one of the highlights for me, and proves that not every superhero film requires a crazy world-shattering event to pose a serious threat to our heroes.
The acting is the film is definitely top notch. Jackman holds nothing back, playing a Wolverine who knows he is nearing the end, and whats to go out on his own terms. His performance had me in tears multiple times throughout, something I am unafraid to admit. Patrick Stewart, in his final performance as Professor X, also steals the show, juggling the crazed, fading old man with the wise and aware Professor masterfully. He, surprisingly, provides some comic relief throughout, a welcome addition to the general bleakness of the plot. The real breakout star here, however, is Dafne Keen as Laura/X-23. Stealing the show nearly every time she's onscreen, the young Keen really manages to bring the emotion, even with a very small amount of dialogue.
To keep things fresh and not give too much away, I'll be wrapping this article up sooner than usual. This is a movie that I qualify as a 'must-see' in theaters. The emotional intensity of the film can not be done justice with a rental or 'wait-for-DVD' kind of viewing. The movie's R-rating is definitely noticeable throughout: with lots of bloody Wolverine carnage and foul-mouthed characters everywhere you look, this isn't really a movie I would recommend bringing the kids to see. It's more of a send-off for fans who aged alongside Jackman's portrayal, and a fitting end at that.
I hope everyone who goes out and sees this film enjoys it as much as I did. I honestly put this as not only my favorite X-Men themed film, but one of my top films to ever feature a superhero. This ain't your Disney Marvel film.
See you guys next time!
Grant