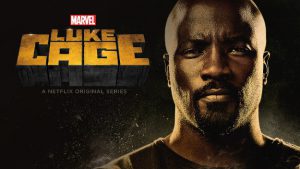 Oh boy. Marvel and Netflix is like a combination made in heaven. Daredevil was incredibly good, with a second season that was almost as good as the first. Jessica Jones blew me away with its terrifying villain and intense subject matter. I will admit that, even though I was generally aware of all of these characters, I didn't know very much about them. They had popped up in comics I read or games that I played, but they were never on my radar as much as, say, Spider-Man or Captain America. However, after enjoying the first few Marvel Netflix shows, I was ready to fly into the next one without a doubt in my mind that it would be good. Was Luke Cage good?
Oh, it was so good.
If I wasn't super familiar with the character before, I want to absorb all knowledge of Luke Cage after watching this show. I loved (nearly) everything about this show. From the casting, to the fight scenes (a Marvel Netflix standard), to the soundtrack, everything about this show was incredible.
Luke Cage stars Mike Colter as the titular hero, and he is incredible. I usually don't say this, but he does more than play the character: Mike Colter IS Luke Cage. From the delivery of his lines, to the emotion he carried in his every move, Marvel and Netflix could not have cast a better hero.
The rest of the cast is incredible too. Simone Missick, as Misty Knight, drew me in to a character I only knew by name, and blew me away with her incredibly layered and emotional performance. Rosario Dawson, of course, killed it again as our friendly-neighborhood-show-connector Claire Temple, who received an incredible arc over the last three-fourths of the show. Alfre Woodard was great as inexperienced villain Black Mariah, but Mahershala Ali was PHENOMENAL as her cousin Cornell "Cottonmouth" Stokes, one of the main antagonists. Ali really stole every scene, making me feel sympathy for a character forced into a bad situation before we even found out why.
The plot starts off strong, but loses its footing a bit towards the end, kind of like Daredevil Season 2. But I really love that this show is basically a Western set in Harlem. Luke is the goodhearted outlaw who rolls in unexpectedly with a dark past and a need to atone. Cottonmouth is the robber baron who holds the city hostage, trying to draw out the outlaw for a duel. This Western-vibe is even reflected in the cinematography, with one scene towards the end of a rooftop gunfight really exemplifying this for me.
Overall, I have to say this is my favorite onscreen portrayal of a Marvel character to date, beating out all of the movies for me. I cannot express how much I loved this show. I was even amazed and inspired by the social commentary it presented, managing to weave themes of inequality and injustice throughout the action. I recommend this show to not just Marvel fans, but fans of darn good TV. This, in my humble opinion, is a Marvel masterpiece.
I'm part way through the next Netflix series, Iron Fist, at the moment, and I'm quite enjoying it so far. Expect my thoughts on that one soon!
Until next time,
Grant