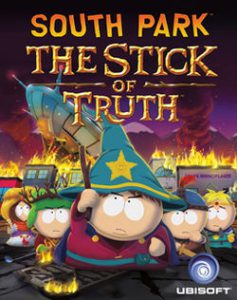 I try and play a lot of different video games, but Role Playing Games have always been some of my favorites. Creating a character and choosing what they do, what they wear, and what items they use has always appealed to me. On a related-only-to-the-rest-of-the-article note, I have little experience with South Park. I never watched it while growing up as many of my friends did, and while I enjoy the vulgar and downright immature comedy the show provides now, I am very glad I didn't watch it as a child. Imagine my confusion when I stumble upon a game that claims to be a Role Playing Game set in the world of South Park. Wait, what?
South Park: The Stick of Truth is exactly what I said before: an RPG set in the world of South Park. Players create their own "new kid" to play, and get to roam around the town of South Park, as well as a few other locations, such as Canada. The game revolves around the new kid joining the other kids of South Park in a city-wide LARP session. In typical South Park fashion, the plot spirals into the absurd, featuring alien abduction, government conspiracy, battles against Nazi Zombies, and the ability to fart at will. Players collect different weapons, armor, and other kinds of equipment, as well as powers and spells as they level up. In my opinion, the story is one of the best parts of the game. It is like playing through an extended South Park episode. While there are no real story-impacting choices like typical RPGs, the game still offers a strong sense of freedom, mainly in the form of side-quests. All the classic South Park characters are there, and the game offers many easter-eggs and references for the truly die-hard South Park fans to enjoy. Trey Parker and Matt Stone, as well as all the regular South Park voice actors, lend their voices to the game, truly making it a one-of-a-kind journey through the world of South Park.
I enjoyed the heck out of this game. Everything from the tight controls, fun and engaging game-play, hilarious plot, and spot-on South Park-style visuals made this relatively short game a crazy fun time. While I made sure to explore as much as I could during my initial play-through, I still feel like I could enjoy multiple future play-throughs.
As to be expected from a South Park related piece of media, this game is very vulgar and definitely not for everyone. The game is rated M for Mature, and features swearing, drug references, sexual innuendo, nudity, and probably a few other horrible things I'm forgetting. If you are willing to look past stuff like that, I definitely recommend this game first and foremost to South Park fans, and second to fans of well-made video games. South Park: The Stick of Truth is available on Xbox 360/PS3/PC and has been out for a while, so you can find it for fairly cheap at used game stores or HERE AT MY AMAZON LINK!
Tune in next week to find out what else I'm going to write about! Hopefully I'll figure that out first!