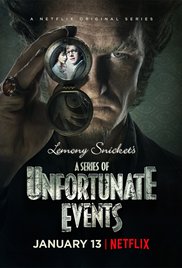 Let me start this post off with a warning for you all. Ahead of you lies a tale so awful, so evil, so indescribably vile that the only advice I can give you is to turn away now. Look away and save yourself. The story of the Baudelaire orphans is full of sadness, terror, and inordinate amounts of inconvenience. So of course, I can't do anything more than recommend this show to you all.
In case any of you were wondering, this show isn't actually any of the things I said in the opening. Its actually great! Netflix's A Series of Unfortunate Events is an incredible adaptation of the Lemony Snicket children's books, and an overall incredible show. When this show was first announced, I wasn't sure how to feel. I had read the first few books as a young child, but the 2004 movie was a bit disappointing, and my interest in the series didn't really carry into adulthood. However, when I was browsing through Netflix in search of something new to watch and stumbled upon this show, I was not disappointed whatsoever.
The show (and of course, the books the show is based on) tells the story of the Baudelaire Children (Violet, Klaus, and Sunny) whose parents are killed in a house fire. This sets the orphans on a crazy ride from guardian to guardian, all the while trying to avoid the sinister Count Olaf and figure out who their parents really were. The first season covers each of the first four books (The Bad Beginning, The Reptile Room, The Wide Window, The Miserable Mill) in two roughly 45 minute-to-an-hour long episodes. This format is wonderful for the story of the Baudelaire Children, as it not only gives enough time to cover the entirety of each book, but it also allows the writers of the show to start sowing the seeds for later arcs ahead of time, adding a whole new layer of fluidity and continuity to the show.
While I can generally praise all of the performances in the show, there are two that really stick out to me: Patrick Warburton as Lemony Snicket, and Neil Patrick Harris as Count Olaf. Lemony Snicket serves as the narrator of the show, walking the viewers through the story and explaining things along the way. Warburton does an excellent job in this role; he is able to be dark and serious, all the while carrying a dry humor in his words. I look forward to every time Warburton steps out onto the screen to warn me of the horrors that await, or explain a word with proper context and examples.
On the other hand, Harris's performance as Count Olaf took some time to get used to. Even though the movie was a disappointment, I really enjoyed the way Jim Carrey looked as Olaf, so the switch to Harris was a bit jarring. But what he lacks in looks, NPH makes up for it with darn good characterization. Harris as Count Olaf brings a combination of humor and dark evil that really brings the character to life on screen. Even though he is a despicable evil, I found myself always wondering where Count Olaf was and what he was up to when he wasn't on screen.
Overall, I am extremely excited for more seasons of this show to come out. I mean, season one was only four books; there are still nine left to adapt! For those of you who have read the books, check this show out. For those of you who just really like the original stuff that Netflix pumps out, check this show out. If you need something else to binge, check this show out. Cause it is really, really good.
See you all next time!
-Grant