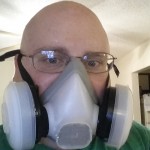 I want to build something.
I know, I've written this before. Both the "Costume Initiative" and "Geek Building" page are full of "I'm going to…" posts, but I always come across a hang up, most of the time involving money. However, with Halloween coming up, I've been pondering what I was going to do. Of course, any of the costumes on my bucket list are completely off the list, because those are not things I want to hurry. However, I have costumes I already own, that I have hurried on in the past, which I can always improve on. With this in mind, I'm turning my sights to my Vault Dweller costume from Fallout 3.
I've written on this a few times, first with a review of the (now discontinued) Vault 101 Jumpsuit from the Bethesda Store, and then with a write up of some of the work I did for Halloween 2014, when I just wore the jumpsuit, and a Pip Boy I threw together out of foam sheets and a PVC pipe in a weekend. It worked for a friend's party, and the office costume day, but I know I can do better.
The goal for this Halloween isn't a full "Lone Wanderer" look, with armor and weaponry, although this is still the ultimate goal for conventions. Instead, I just want it to have more of the details that the video game jumpsuit has, and I want a Pip Boy that fits better than a chunk of PVC slipped over my wrist and forearm.
So, I'm currently looking around for patterns, plans, or at least a good picture of the belt and shoulder detail for the Vault 101 jumpsuit. I still have plenty of smaller foam sheets, as well as foam floor mats, along with Plasti Dip and spray paint, to make these with just time and effort, and not money. Luckily, I have more good friends on Twitter, that have pointed me in the direction of a Facebook Fallout Costume group that, I'm hoping, will have some good info.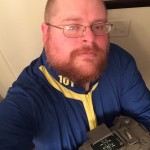 The Pip Boy, however, might be a bit more difficult. Luckily, I'm giving myself more time to work on it. A really awesome friend gifted me a 3D printed Pip Boy, which is just outstanding, but is too small for my arms. However, I do believe I can re-purpose my old Pip Boy's PVC pipe, and spend a very small amount on another piece of PVC to replicate how the wrist cuff fits the forearm and wrist, and then I might be able to take the details off the 3D Print and see how well they match that. If not, then I'll scrounge for some plastic, and do some more building.
Other than that, the only other piece I have to worry about is the dial on the back of the hand that I didn't have on the Pip Boy last time, which is also missing from all of the 3D Printed kits I've seen. This will involve tracking down some finger-less gloves (it's no longer the 80's, so I'll probably have to make my own), and building this up myself.
Now, I'm not big on scratch building. I'm not big on sculpting. I'm not big on pattern making. This is all simple, but a lot of it is outside my standard skill set, so I'm looking forward to seeing what I can cobble together by the end of October.
I'll probably document everything on Social Media as I'm working on it, then put it all together as a "wrap up" blog post, after Halloween, so hopefully, if I did it right, I'll be able to have good information for all those folks who find my stuff while looking for Fallout costume tips, and information on how to hopefully make it look decent at a decent price.
So, follow me on Twitter, Facebook, and Instagram as I get fired up on this, starting this weekend.
Lizz is going to be thrilled.