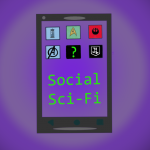 Happy Friday, readers and listeners! We are back with another episode of the Social Sci-Fi Podcast! This month, Lizz brings together Kendra, Rachel, and Luisanna to talk about episode 3 of the most recent season of Doctor Who, "Rosa". They talk about the episode, and also talk about their experiences with racism, as well as sexism. This is a serious episode, covering a serious topic, and I encourage everybody to plug in, and give the panel the next hour and eighteen minutes to fill your ears with their thoughts, their experiences, and their advice, both from a social work aspect, as well as from someone who experiences racism in their everyday life.
 Time stamps!
0:01 – 0:26 "Postcards" by Scott Holmes
0:21 – 1:16 Introduction by Lizz
1:17- 1:42  Going around the table, introducing the guests
1:43 – 1:15:45 – Discussion about "Rosa"
1:15:45 – 1:17:11 "Epic Cinematic" by Scott Holmes
1:16:03 – 1:17:11 Outro
Links of note!
Featured Episode
Mentioned during the episode:
Where to find the guests online!
Where to find Lizz online!
Music featured on this Episode

Opening track: "Postcards" by Scott Holmes
Closing track: "Epic Cinematic" by Scott Holmes
All tracks off of Scott Holmes' "Documentary & TV Series", used under non-commercial/attribution license through the Free Music Archive (LINK).

Where to find the Podcast online!
Where to find Social Sci-Fi online!
Support the Podcast's Host
All notes for this episode can be found at http://geekinginindiana.com/ssf-y1e03/
Thank you all for listening! As always, be excellent to each other, and to yourselves! We'll see you all soon!