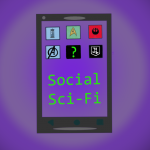 Happy Friday, readers and listeners! We are back with another episode of the Social Sci-Fi Podcast! This month, Lizz brings together Kendra and Rachel to talk about episode five of the most recent season of Doctor Who, "The Tsuranga Conundrum". This episode was your basic "base under siege" episode, as Rachel put it, but there was still some things the panel took a look at, and focused on.
Since we didn't have a huge panel this week, and because this was more like one of your typical Doctor Who episodes, this month's podcast isn't really long, clocking in at just over a half hour, so you should have plenty of time during your lunch hour to pop in your earbuds, and listen to our panelists talk about this episode!
 Time stamps!
0:01 – 0:21 "Postcards" by Scott Holmes
0:19 – 0:42 Introduction by Lizz
0:43- 0:49  Going around the table, introducing the guests
0:49 – 32:41 – Discussion about "The Tsuranga Conundrum"
32:42 – 34:09 "Epic Cinematic" by Scott Holmes
33:00 – 34:09 Outro
Links of note!
Featured Episode
Where to find the guests online!
Where to find Lizz online!
Mentioned during the episode

Sherlock, "I'm in shock! Look, I've got a blanket!" (YouTube Link)

Music featured on this Episode

Opening track: "Postcards" by Scott Holmes
Closing track: "Epic Cinematic" by Scott Holmes
All tracks off of Scott Holmes' "Documentary & TV Series", used under non-commercial/attribution license through the Free Music Archive (LINK).

Where to find the Podcast online!
Where to find Social Sci-Fi online!
Support the Podcast's Host
All notes for this episode can be found at http://geekinginindiana.com/ssf-y1e05/
Thank you all for listening! As always, be excellent to each other, and to yourselves! We'll see you all soon!