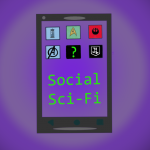 Happy Friday, readers and listeners! We are back with another episode of the Social Sci-Fi Podcast! This month, Lizz brings together the largest group yet, with John joining Kendra, Rachel, and Ryck to talk about episode seven of the most recent season of Doctor Who, "Kerblam!". Upon delivery of a fez (of course) that contains a cry for help on the packing slip, the Doctor and the crew go to check out Kerblam!, a company that is in no way similar to Amazon, to see what is going on. After watching this, Lizz and her crew talk about the episode, the future, and bubble wrap!
This episode clocks in at under an hour, so keep that in mind as you grab a cool beverage, put on your headphones, and let the group fill your earholes for the next fifty two minutes! Also, important note: This is the first episode where Lizz does a lion's share of the editing! Sadly, this was done too late for me to re-record the outro (I've been sick), but if she wants to continue, future outros will be recorded to reflect this! Way to go, Lizz!
 Time stamps!
0:01 – 0:20 "Postcards" by Scott Holmes
0:19- 1:30 Introduction by Lizz, going around the table, introducing the guests
1:31 – 50:47 – Discussion about "Kerblam!"
50:47 – 52:16 "Epic Cinematic" by Scott Holmes
51:06 – 52:16 Outro
Links of note!
Featured Episode
Where to find the guests online!

Luisanna
Kendra
John
Rachel

Where to find Lizz online!
Music featured on this Episode

Opening track: "Postcards" by Scott Holmes
Closing track: "Epic Cinematic" by Scott Holmes
All tracks off of Scott Holmes' "Documentary & TV Series", used under non-commercial/attribution license through the Free Music Archive (LINK).

Where to find the Podcast online!
Where to find Social Sci-Fi online!
Support the Podcast's Host
All notes for this episode can be found at http://geekinginindiana.com/ssf-y1e07/
Thank you all for listening! As always, be excellent to each other, and to yourselves! We'll see you all soon!