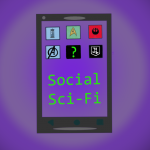 Happy Friday, readers and listeners! We are back with another episode of the Social Sci-Fi Podcast! This month, Lizz brings together Kendra, Rachel, and Ryck to talk about episode eight of the most recent season of Doctor Who, "The Witchfinders". The crew lands in 17th Century Lancashire, where they find themselves up to their necks in a witch hunt, made even worse by the arrival of King James I!
This episode clocks in at under an hour, so keep that in mind as you grab a cool beverage, put on your headphones, and let the group fill your earholes for the next fifty minutes!
 Time stamps!
0:01 – 0:20 "Postcards" by Scott Holmes
0:20- 0:45 Introduction by Lizz, going around the table, introducing the guests
0:45 – 15:34 – Discussion about "The Witchfinders"
15:35 – 16:09 Technical Issues, Word from our Sponsor
16:10 – 48:07 Discussion Continued
48:07 – 49:35 "Epic Cinematic" by Scott Holmes
48:26 – 49:30 Outro
Links of note!
Featured Episode
Where to find the guests online!
Where to find Lizz online!
Mentioned in the episode:
Music featured on this Episode

Opening track: "Postcards" by Scott Holmes
Closing track: "Epic Cinematic" by Scott Holmes
All tracks off of Scott Holmes' "Documentary & TV Series", used under non-commercial/attribution license through the Free Music Archive (LINK).

Where to find the Podcast online!
Where to find Social Sci-Fi online!
Support the Podcast's Host
All notes for this episode can be found at http://geekinginindiana.com/ssf-y1e08/
Thank you all for listening! As always, be excellent to each other, and to yourselves! We'll see you all soon!