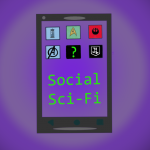 Happy Friday, readers and listeners! We are back with another episode of the Social Sci-Fi Podcast! This month, Lizz wraps up Doctor Who series 11 with the return of an old adversary in "The Battle of Ranskoor Av Kolos." She is joined by Luisanna and Rachel to talk getting Luisanna caught up with the previous episode, the return of "Tim Shaw," and the idea of revenge.
Lizz has also started becoming adept at the editing, with this episode being another episode she did the lion's share of the editing on. All I did was add the intro music, and the pre-recorded outro! I feel this is worth pointing out because, less than a year in, Lizz has really dove into this project and made a part of, yet apart from, Geeking in Indiana. Not only am I thrilled for her, but I'm also happy in a selfish way, because it means there's one less podcast for me to edit!
Now, this episode comes in at well under three quarters of an hour, so it's a nice, tight, short listen. So, sit back, plug in, and listen to the crew talk about Who!
 Time stamps!
0:01 – 0:21 "Postcards" by Scott Holmes
0:20 – 35:27 – Introductions, discussion about "The Battle of Ranskoor Av Kolos"
35:27 – 36:55 "Epic Cinematic" by Scott Holmes
35:46 – 36:51 Outro
Links of note!
Featured Episode
Where to find the guests online!
Where to find Lizz online!
Mentioned in the episode:
Music featured on this Episode

Opening track: "Postcards" by Scott Holmes
Closing track: "Epic Cinematic" by Scott Holmes
All tracks off of Scott Holmes' "Documentary & TV Series", used under non-commercial/attribution license through the Free Music Archive (LINK).

Where to find the Podcast online!
Where to find Social Sci-Fi online!
Support the Podcast's Host
All notes for this episode can be found at http://geekinginindiana.com/ssf-y1e10/
Thank you all for listening! As always, be excellent to each other, and to yourselves! We'll see you all soon!