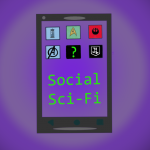 Hello again, and welcome to another episode of Social Sci-Fi. We got off track with a couple of special episodes about VoltCon 2019, but we have returned to close out the year with the holiday episode of Doctor Who, and last episode of the podcast for 2019.
In this 2019 New Year Episode, the Doctor and the crew come across a group of archaeologists that have dug up one of the Doctor's old foes. Watching it with me this month is Kendra, Luisanna, and Rachel. Though we started the year with others off and on, this has become the core group. It has been great getting to know these ladies and as long as they are willing I hope to have them join me as much as possible in 2020.
We discuss the episode, talk about the Series 12 trailer that dropped just a day before we recorded, and we talked about the projects coming in 2020. There may have also been a little plotting to taking over an episode of the YLGTON podcast.
So plug in your headphones, pour yourself a nice cup of tea, and sit back and listen for the next hour and twenty! Thank you for joining me for Year One. Wishing you all well in 2020!
Time stamps!
0:01 – 0:21 "Postcards" by Scott Holmes
0:20 – 1:18:39 – Introductions, discussion about "Resolution"
1:18:39 – 1:20:08 "Epic Cinematic" by Scott Holmes
1:18:58 – 1:20:02 Outro
Links of note!
Featured Episode
Where to find the guests online!

Luisanna
 Rachel
Where to find Lizz online!

Music featured on this Episode

Opening track: "Postcards" by Scott Holmes
Closing track: "Epic Cinematic" by Scott Holmes
All tracks off of Scott Holmes' "Documentary & TV Series", used under non-commercial/attribution license through the Free Music Archive (LINK).

Where to find the Podcast online!
Where to find Social Sci-Fi online!
Support the Podcast's Host
All notes for this episode can be found at http://geekinginindiana.com/ssf-y1e11/
Thank you all for listening! As always, be excellent to each other, and to yourselves! We'll see you all soon!