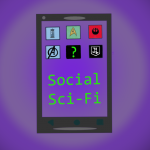 Hello again, and welcome to another episode of Social Sci-fi.  For this special episode, I'm not talking about a show or a movie. Instead, I'm talking about a little convention I was able to help out with this past October, called VoltCon. As I was there, I decided to break out the podcast equipment and interview guests, vendors, and attendees. I was having such a great time, and I was hearing all kinds of wonderful feedback, so I wanted to talk to people about the con. Then, when the show was over and the dust settled a bit, I invited the organizers behind this local show over to the Geek Cave Studios for a full interview about the process of putting on a "small but mighty" convention celebrating the 35th birthday of Voltron.

This is part one of a two part special. In the first part, I interview Kevin, Patrick, and Savannah, who were the crew behind the show. In addition, I have teasers of my talks with a show sponsor, the person behind the art used for the convention, and a couple of the guests. Next Friday, November 29th, I'll have the full interviews with everyone I interviewed at the show, from vendors to attendees, to get their thoughts on this first-year convention.

So, sit back, and let us fill your ears for the next fifty two and a half minutes with talk of giant robots!

Time stamps!
0:01 – 0:21     "Postcards" by Scott Holmes
0:21 – 0:57      Introductions – VoltCon Organizers
0:58- 43:01 – Discussion with VoltCon Organizers
43:02 – 43:14  Introduction – Comic Carnival (Sponsor)
43:15 – 44:39  Tim Reynolds, Comic Carnival
44:40 – 44:47  Introduction – VoltCon Graphic Designer
44:48 – 45:51  Tom Soltis, Graphic Artist
45:52 – 45:55  Introduction – Let's Voltron! Podcast
45:56 – 48:02  Marc Morrell and Greg Tyler, Let's Voltron! Podcast (Guests)
48:03 – 48:09  Introduction – Jeremy Corray
48:10 – 51:07  Jeremy Corray, former Creative Director, World Events Productions (Guest)
51:07 – 52:34  "Epic Cinematic" by Scott Holmes
51:25 – 52:30  Outro
Links of note!
Where to find the guests online!
Where to find Lizz online!
Mentioned in the episode:
Music featured on this Episode

Opening track: "Postcards" by Scott Holmes
Closing track: "Epic Cinematic" by Scott Holmes
All tracks off of Scott Holmes' "Documentary & TV Series", used under non-commercial/attribution license through the Free Music Archive (LINK).

Where to find the Podcast online!
Where to find Social Sci-Fi online!
Support the Podcast's Host
All notes for this episode can be found at http://geekinginindiana.com/ssf-y1sp2/
Thank you all for listening! As always, be excellent to each other, and to yourselves! We'll see you all soon!