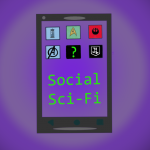 Hello again, and welcome to another episode of Social Sci-Fi. This month we have a short episode, and it may be a little odd. This is what happens when plans fall through and instead of a full podcast, you get the ramblings from Lizz's brain. What I have learned from this is I need other people to talk to. A script is a good idea, but hard for me to get right and when I ad-lib it gets weird.
Anyway, about this episode. There is a little bit about year one, if you haven't listened go check them out, there are 10 regular episodes and 3 special episodes. I also give you a sneak peek into year two. It's still in the planning stages so there are details on a few and then a little rambling when I get to my list of ideas that aren't fully formed. Thanks for joining me, and I promise, there's lots of cool stuff coming up.
Time stamps!
0:01 – 0:21 "Postcards" by Scott Holmes
0:20 – 7:37 – Introduction, Review of 2019, Plans for 2020
7:37 – 9:04 "Epic Cinematic" by Scott Holmes
7:55 – 9:53 Outro
Links of note!
Where to find Lizz online!
Music featured on this Episode

Opening track: "Postcards" by Scott Holmes
Closing track: "Epic Cinematic" by Scott Holmes
All tracks off of Scott Holmes' "Documentary & TV Series", used under non-commercial/attribution license through the Free Music Archive (LINK).

Where to find the Podcast online!
Where to find Social Sci-Fi online!
Support the Podcast's Host
All notes for this episode can be found at http://geekinginindiana.com/ssf-y2e01/
Thank you all for listening! As always, be excellent to each other, and to yourselves! We'll see you all soon!