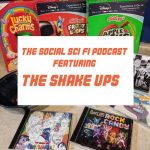 Hello, and welcome to another episode of Social Sci-Fi. This month, I invited The Shake Ups, a local band to the Geek Cave to watch and talk about cartoons. When I say local, I mean to Indianapolis, but they run all over the Midwest and perform catchy songs in costumes from their favorite cartoons. The Head Geek has had them on the Indiana Geeking Podcast a few times, and you are already familiar with Luisanna from year one of this podcast.
Now, I know it wasn't Saturday morning, it was Sunday afternoon, but there was still cereal and we had a good time. If you didn't grow up in the 80's watching Saturday morning cartoons, you missed out. In the spirit of those times, we watched the Netflix originals The Dragon Prince, Voltron: Legendary Defender, and She-Ra and the Princesses of Power, and Steven Universe Future which can be found on Cartoon Network. The Shake Ups have released original music for all of these cartoons, except for The Dragon Prince, and have also written and performed music based on My Little Pony, Scooby-Doo, He-Man, ThunderCats, and others. They have also done covers of The Beatles, and They Might be Giants. I am forgetting things, but you can find everything in the links below.
You might wonder how cartoons fit the Social Sci-Fi theme, but If you are familiar with any of the ones we watched, you know that they are full of the kinds of things we love to talk about on this podcast. I would also like to say it was an absolute joy to have The Shake Ups over, and thank them for their time. Now, pour yourself a bowl of sugary cereal, curl up on the floor with whatever you listen to podcasts on, and join us for the next hour as we talk cartoons, Saturday mornings, and playing albums backwards!
Time stamps!
0:01 – 0:21 "Postcards" by Scott Holmes
0:20 – 8:45 – Introductions, Episode Expectations, General Cartoon Discussion
8:45 – 17:40 – The Dragon Prince
17:40 – 31:23 – Voltron: Legendary Defender
31:23 – 41:50 – Steven Universe Future
41:50 – 46:32 She-Ra and the Princesses of Power
46:32 – 1:01:47 Wrap-up
1:01:48 – 1:03:15 "Epic Cinematic" by Scott Holmes
1:02:06 – 1:03:11 Outro
Links of note!
Where to find The Shake Ups online!
Where to find Lizz online!
Cartoons we watched:

The Dragon Prince – Season 3 Episode 1 -Sol Ragem

Has a good recap in the first few minutes so you can watch this episode to see what we are talking about and then go back and start from the beginning because you are going to love it!

Voltron: Legendary Defender – Season 3 Episode 3 – The Hunted
Steven Universe Future – Season 1(or 6) Episode  – Little Graduation
She-Ra and the Princesses of Power – Season  Episode  – Princess Prom

Also mentioned in this episode:
Shake Ups Upcoming Events
Music featured on this Episode

Opening track: "Postcards" by Scott Holmes
Closing track: "Epic Cinematic" by Scott Holmes
All tracks off of Scott Holmes' "Documentary & TV Series", used under non-commercial/attribution license through the Free Music Archive (LINK).

Where to find the Podcast online!
Where to find Social Sci-Fi online!
Support the Podcast's Host
All notes for this episode can be found at http://geekinginindiana.com/ssf-y2e02/
Thank you all for listening! As always, be excellent to each other, and to yourselves! We'll see you all soon!