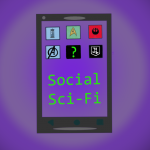 Hello again, and welcome to another episode of Social Sci-Fi.
You're about to listen to part one of a special two part episode.  We watched and discussed the first three episodes of the Amazon Original miniseries Good Omens. We also discussed the book it was based on, Good Omens: The Nice and Accurate Prophecies of Agnes Nutter, Witch. Written by Neil Gaiman & Terry Pratchett and published in 1990.
We talked about a little of the controversy surrounding the release on Amazon Prime, some of the easter eggs in the show to honor the late Terry Pratchett , and things that were missing or presented differently in the miniseries.
If you are not familiar with the book you will still enjoy the miniseries, but as you will hear you may be missing out on some of the jokes. When the book begins with a caveat that reads, "Bringing about Armageddon can be dangerous. Do not attempt it in your own home." you know you are in for a real treat. If you haven't see the miniseries yet, or if you started to watch and had trouble getting into it. Start with the 20 minute cold open of episode three and then go back and start from the beginning.
Thanks for joining us, plug in your headphones and enjoy. Don't forget to check out the links for our guests and for other things mentioned in the episode.
Time stamps!
0:01 – 0:21 "Postcards" by Scott Holmes
0:20 – 2:27 – Introductions, intro to subject
2:28 – 9:09 – Book vs. Series, Netflix "Controversy"
9:10 – 22:34 – Episode One Discussion
22:35 – 55:55 – Episode Two Discussion
55:56 – 1:28:35 – Episode 3 Discussion
1:28:36 – 1:33:11 – Wrap up, where to find guests
1:33:12 – 1:34:35 "Epic Cinematic" by Scott Holmes
1:33:30 – 1:34:34 Outro
Links of note!
Featured Episode
Where to find the guests online!

Beckie
 Rachel
Where to find Lizz online!

Music featured on this Episode

Opening track: "Postcards" by Scott Holmes
Closing track: "Epic Cinematic" by Scott Holmes
All tracks off of Scott Holmes' "Documentary & TV Series", used under non-commercial/attribution license through the Free Music Archive (LINK).

Where to find the Podcast online!
Where to find Social Sci-Fi online!
Support the Podcast's Host
All notes for this episode can be found at http://geekinginindiana.com/ssf-y2e03/
Thank you all for listening! As always, be excellent to each other, and to yourselves! We'll see you all soon!