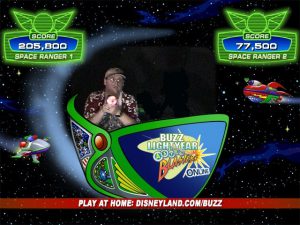 Disney Parks has an attraction type called the "Omnimover". Simply put, it's a line of cars on an ever-moving track, that spin you around and show you what the attraction designers want you to see. Originally built for "Adventure Through Inner Space" in Tomorrowland, it's most well-known application is for the Doombuggies in the various Haunted Mansion locations in the Disney Parks across the globe. This was also the mechanism used for the attraction that joined the Tomorrowland family in 2005, Buzz Lightyear Astro Blasters. To jump ahead a bit, whenever I worked Guest Control for this attraction, and the guests asked me what it was like, I told them it was like "the Haunted Mansion if you were able to shoot the ghosts", which really did oversell it.
Now, looking back at my Facebook posts from 2008, I guess I was actually pretty excited to learn Buzz. However, once I got there, my attitude, sadly, began to change. Most of this attraction was indoors, you were constantly walking on a treadmill, many times backwards (who knew my experience as a Drum Major my senior year of high school would have a practical application?), and I would constantly leave the attraction hoarse and with a a headache, due to the loud noises I had to endure, and shout my safety spiels over.
Buzz Lightyear Astro Blasters opened in 2005, and was based on the Toy Story films. You took the role of a Space Ranger, climbed into your Space Cruiser, picked up your blaster, and shot at targets based on Emperor Zurg and his minions. I'm sure there was a deeper story, but it all boiled down to this being a cross between the Haunted Mansion and the shooting gallery in Frontierland. At the end, you were able to find a picture of your car, and email it to yourself, with your score (see featured photo for this post). It wasn't hugely popular, but it was a definite "must ride" for those with a competitive streak.
Looking back, the attraction was fairly easy to work, when compared to the subs. You didn't have to really control anything, you just had to load and unload guests, work guest control, and keep an eye on the cameras. Loading and unloading was simple, though you DID have to make sure you were telling guests to exit their space cruisers on their right, because some people would just try to climb over the wall to get out the wrong side. Occasionally, you'd have to pause the track to load or unload a wheelchair rider, which was not that big of a deal, and allowed those already in the attraction to really get their score up. Many people hoped the track would stop in front of a Zurg figure, because those had a hidden target in the chest that would give an obscene number of points!  Guest control was fairly simple as well, because you weren't usually working with a two hour queue. The only stinger was, this was a FastPass attraction, so you had to learn how to read the tickets. FastPass, for those who don't know, allowed you to get a ticket with a "return time", and you had to be back during that time slot, and it gave you a shorter line to wait in. So, at the entrance, you had to be able to recognize those tickets to let them in the correct line, and then there was a "merge point" where the standard line and the FastPass lines would join together, and you had to be pretty good at letting the FastPass riders in, without making them feel like they were waiting too long (they had a ticket, after all!), but also making sure the standard line wasn't waiting for all of these "line cutters" to join in. Finally, there was the camera position. You know that picture I have up there? That's one of the photos you were able to get from the attraction, taken around the time I left the park. Part of the rotation in the attraction consisted of sitting in a room with monitors, checking each and every photo that came through for flashers, obscene gestures, or other things that were not considered "appropriate" in a family park. This was a very broad set of guidelines, and we were given pretty free reign to delete what we felt needed deleted. Was someone an a-hole to you in line right before you got into the picture room? Delete their picture. Someone you don't like on the attraction? Delete. Since the photos were free, there was really no place to file a complaint. Now, I swear I never did this, but these were thoughts I had as I was sitting in that boring room, looking at the never-ending stream of photos coming across the monitor in front of me.
As the summer of 2008 drew to a close, my hours started to get sliced down, and all of my shifts were coming up Buzz. I was driving 32 miles (one way) to work for a four hour shift, three days a week, on an attraction I was not fond of. I was not eligible for full time, or a promotion, because I didn't have tenure with the union (yes, Disneyland Attraction team members were part of the Teamsters Union), and at the rate I was earning ($9.05 an hour), it was practically costing me money to work there. I tried getting a second job, but trying to work with Disney on scheduling was enough to make me pull my hair out. Looking at my enjoyment level, my financial situation, and the incoming appearance of the Geekling, this caused me to put in my two weeks notice at the park, much to the disappointment of Tomorrowland Management. In September of 2008, after working my final two weeks, I turned in my costumes and went back to the world of retail.
Oh, and a final stab to me? My last week of work was all Buzz shifts.
Still, I have great memories, and some unique experiences I love to share from time to time….
To be concluded…