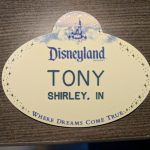 Looking back, almost ten years later, working at Disneyland wasn't completely bad. Sure, the hours were minimal, the pay was lousy (even by Indiana standards), and the union was just absolutely useless at everything except for taking extra money out of your paycheck. However, I have friends, still, that I made back when I worked at the parks. I obviously have stories to tell. In addition, I also had a few interesting encounters.
First, there were the stupid guest tricks. The number of times I would have a guest look at me, and in a sincerely honest voice ask, "What are we going to do if the sub sinks?" were mind-boggling ("Well, if the sub doesn't sink, we're going to have a rather disappointing underwater voyage, aren't we?"). Then there was the ever popular, "What time is the 3 o'clock parade?", which has since been analyzed and marketed, because Disney can't pass up a buck. However, there were also some really stupid things, like finding dirty diapers on the subs after guests had unloaded and you were doing your walk-through before the next batch of guests were on. There was also the time I had to tell a group of twenty that they were not line jumping, because two people held their place in line. It was truly fantastic when they threatened to "complain to City Hall" (guest services) and I immediately struck one of those "I'm the manager, I don't care what you're complaining about" poses, made sure they knew my name, gave them descriptors to make sure I wouldn't get mixed up with one of the other two Tony's on the dock that day, and even told them I'd call ahead, so City Hall could be prepared to accept their complaint. The manager on duty, when he found out, started to get on my case for not calling for him, until I asked, "Why? What would you have done differently?" He paused for a second, and then told me I actually probably handled it better than he would have! That was a pretty good feeling.
Another interesting thing about working at Disneyland was the amount of celebrities you'd see. I saw more working there, than I did while I actually worked in the film industry! Most of them were from afar, like seeing Penn Jillette standing with a group at the front dock, while I was working the rear dock (he's kind of hard to miss, the dude was huge!), or passing Kobe Bryant as he was being brought in to the submarines (how these tall dudes fit, I have no idea.). However, there were a few times where I got face to face with a couple.
The first, and calmest, was when I was working Buzz Lightyear. I'm working as the greeter, where I was checking FastPass tickets and getting people to the correct lines, when a "Plaid" walked up with a group. The "Plaids" were the cast members, some of the best and the brightest, that gave VIP tours and assisted VIPs in the park, which included many of the visiting celebrities. The VIP on this visit was Gordon Ramsay and his family, and they were looking to ride the attraction. I let them in through the back entrance, and he and his family were very kind and appreciative.
My other celebrity experience was a bit more intense, but it wasn't necessarily in a bad way. One evening, while working Guest Control at the front of Sleeping Beauty's Castle before the fireworks show, I noted a lull in the traffic along the walkway. Looking down, it was a slow moving group, with another Plaid. As they got closer, I noticed the cast member was trying to move the group along, but someone was shaking the hand of every cast member that was working, trying to keep the traffic flowing, and keeping people from entering Fantasyland, which was directly under the fireworks show and closed down for safety reasons as it was happening. As the party approached me, I realized the older gentleman shaking everybody's hand was Gary Busey! As he walked up to my position, with a very exasperated Plaid in tow, he leaned forward to shake my hand, and said he wanted to thank all of us for the fantastic day his family was having at the park. I smiled, shook his hand, and said, "Gary, it's our pleasure. That's why we're here." I will never forget how his face lit up, and how big his grin was, when I called him by his first name, and how the Plaid behind him just got a look of relief and mouthed "Thank you!" over his shoulder, before they moved on to the next cast member. He was a very intense person, but he was also very kind and in good spirits, so that shook some of the creepiness out of the situation, and made it a memorable one.
Finally, years after leaving the park, I had an interesting experience at a Pay Less Shoes. Back in, I don't know, 2011, I was working at Pay Less Shoe Source off 86th near Michigan here in Indianapolis. I was the only employee in at the time, and I was helping a mother and daughter find some, well, shoes. As I was helping them, they were trying to figure out how they recognized me. I went through all of my retail experience in the area (which was a lot, going back to 1997), and they said that couldn't be it, because they were from out of state, and the daughter just went to college here in Indy. We stopped worrying about it as I went to ring them up, and I asked for their phone number, which was part of the ring-out process. When they gave it to me, it had a 714 area code.
"Wait, you live in the Anaheim area?"
They look at each other, giving each other a look that said, "What kind of idiot savant is ringing us up, that has area codes memorized?"
"Yeah, we're from Anaheim."
"So, might I assume you've been to the park?" Yeah, one doesn't need to specify which park it is.
"Yeah, we're annual passholders…" they say, as realization starts to hit.
"Well, stop me if you've heard this one…" and I break into my loading spiel for the Submarine Voyage.
"OH MY GOD, YOU'RE SELLING SHOES IN INDIANA NOW?!?!?!"
They remembered me, from the Submarine Voyage. I guess my spiels were unique, and every time they had visited I was energetic and ran the submarines well and made it fun, they had actually seen me a few times at the attraction. Then, one day, I vanished without a trace, as employees have a tendency to do in low paying jobs. We talked for a few minutes about how crazy the situation was, what I was doing in Indiana (you know, native Hoosier and whatnot), and finished their transaction before wishing them a magical day. This made me happy, because it showed me that despite the lousy pay, and some of those really rough times, that I was able to make people's days happy, and better, and I was remembered.
So, with that, we are done with the "saga" of working for Disney. After a bit over a month, what do you think? Is it too much "me" on the blog? Do you find this interesting? Please, let me know. I mean, let's face it, ultimately I'm going to do what I want, but the ultimate goal is to put up content people enjoy, right?
See you tomorrow!
Close – Throwback thursdays? Too much me? Go back to local stuff?