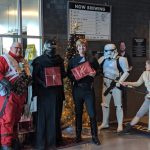 What is trooping? Why are we talking about Star Wars and this trooping thing? Well, since he finished his Resistance Pilot costume (link) the Head Geek has attended a few events in costume. He gets together with his friends at Star Wars Indiana to dress up as their favorite Star Wars characters, hang out, and get their pictures taken.  Last month's opening weekend for Star Wars: The Rise of Skywalker was the first time I got to join Tony in something that he loves, and learned a little more about "trooping" in the process. We were at Flix Brewhouse in Carmel where for approximately four hours my husband, as a Resistance Pilot, joined his friends who were dressed as Kylo Ren, Rey, Luke Skywalker, and an original trilogy Stormtrooper as they stood in the lobby of the theater and posed for pictures with fans, young and old.
The expressions on peoples' faces when they first saw the characters was priceless. I saw adults trying to get their teens and preteens to get their pictures taken. There were so many dads trying to get their 6-10 year old in the picture with them, only to finally take the picture alone. There were adult children taking pictures of their parents, and then gleefully jumping in the picture themselves when I offered to take the picture for them. There was even a little guy who would not go anywhere near the Stormtrooper at first, so his parents got a picture with everyone else. However, the youngling kept coming back while they waited to be seated and by the time the movie was over, he was comfortable enough to walk up and give the Stormtrooper a high five!
While I was watching and helping, I took pictures of the group around the Christmas tree and generally being silly, just having a good time. Once it was over, we enjoyed a drink and hung out (without costumes) before watching the movie while another group took over trooping out front. It was our 2nd viewing and I have to say I did enjoy it more this time.
What I learned that day was, people really like to see characters they can interact with. Aside from being on their feet for a lengthy period of time, it is not demanding and is quite enjoyable. I also learned that costuming is like getting a tattoo in that once you have completed one costume you want another, and another. This worries me a little, because I really want the mechanic jumpsuit Rose wore in The Last Jedi. While Rose is the only one I want to do right now, at some point I will probably find another I want to do and you know, Tony has a couple more he wants to do (link).
If you are interested in trooping or want to know how it all got started, everything you need to know is below. From articles about how Star Wars costuming and trooping began, to how to get involved in Indiana.
The Birth of the 501st – Articles below from starwars.com where you can find everything Star Wars. It's easy to get lost in the Star Wars universe, so follow the links if you want to know more about Star Wars trooping and how it got started. Below that are all the social media links I could find for Indiana's Star Wars costuming groups, the Bloodfin Garrison and Mos Espa Base.
Birth of the 501st Legion
Want to know more about how the Rebel Legion got it's start? Check THIS out! There is a bit of a surprise in this one. Spoilers? Nope. Just going to have to read the article.
Locally, Star Wars Indiana is the "umbrella" that covers both the 501st and the Rebel Legion.
Bloodfin Garrison
Mos Espa Base
To learn more about the 501st:
To learn more about the Rebel Legion:
Thanks for joining me for my random thoughts. Next year when I have my own costume, or in 5 years when you see links of Tony and I in several different costumes, you can come back here to see how they sucked me into this craziness.