Writer Amy Chu has a lot going on.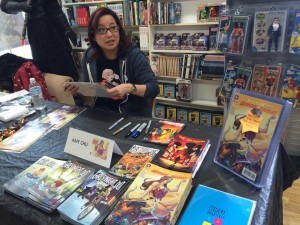 Her digital-first Wonder Woman story was released in print a few weeks ago in Sensation Comics #7. Girls Night Out, which is short-story collection in comics form, currently has three volumes that contain some recurring stories (Saving Abby, for example, appears in all three) but are written so they can stand alone. Also, she does most of her own lettering. And Girls Night Out and her comic The V.I.P. Room are released through Alpha Girl Comics, the independent comics publishing company she co-founded.
I got the chance to meet Amy during her signing last weekend at Aw Yeah Comics in Muncie, and ask about what she has in the pipeline.
---
What projects do you have coming up this year?
I'm working on a whole bunch of stuff right now. I have some more work from Vertigo. I have a story that'll be coming out next month, Strange Sports Stories, which is a reboot of the original DC series that was very popular in the 70s. I have a much bigger project that coming up, but I don't think it's been officially announced so I don't think I'm supposed to tell you. But I have more work coming from Vertigo.
I am working on a project for the Baltimore Museum of Art, I'm doing a comic for them on Quan Ying the Bodhisattva. I have a comic up in the New York Historical Society, and I just got a contract to do a comic for DMC of Run DMC.
Oh my gosh, seriously?
Yeah, so all the sudden all these things are happening, it's like "aaah!"
I'm sure I'm forgetting something now. I'm also working on something…probably not supposed to talk about this either. Yeah, so I've got a bunch of other projects going on. And I've got the Girls Night Out stuff – my own self-published stuff.
So what's the comic for DMC?
I don't know if you've seen it, this was a couple months ago – DMC is kind of a rap superhero, so I'm doing one of the characters in that universe. She's a graffiti artist.
How is your approach different when you're writing your own creator-owned stuff versus other people's existing characters? Does it change how you approach writing the script?
How I approach writing it? Sure, a bit, in that if it's for somebody else's character you have to respect that. The parameters are a little different. Like with DMC Comics I'm asking them "what are you looking for?" You're just sort of having the conversation with yourself with your own stuff. But you want to know what the purpose is, what they're trying to get out of it, how many pages. All that stuff is really important. But the creative process I don't think is different, because you know, you just gotta…conjure stuff.
So, you've got three volumes out of Girls Night Out…
Three volumes. I'm working on volume four, but that's getting pushed back a little bit because I've got all this other stuff going on.
How far do you see taking the Girls Night Out series?
I don't know. As long as people are interested in those specific characters, I'll just keep doing it. I really do enjoy self-publishing and these are the kind of stories that are a lot harder to sell to bigger companies because they're not super hero stories. So, there's only certain…pitching those stories is a lot harder. Self-publishing is much easier in that respect.
Yeah, because it's self-published through Alpha Girl, right?
Yeah, yeah, exactly. And these are different stories. Like, slice of life stories, some little…you know, different things.
With Alpha Girl, is it exclusively your stuff right now?
Yes and no. Meridien City was the first book. I didn't write it – I lettered it, actually. Alpha Girl was me and Georgia Lee – my friend Georgia – who is a writer and a director. But then her manager is the executive producer of The Walking Dead and he had a movie for her to direct, so it's like "oh, okay! Go direct, 'cause you need to do that". So I started writing. And at some point hopefully she comes back but you know, she's busy. And making much more money. Now she's on a SyFy channel show, writing for that!
Wow. She's pretty busy…
Yeah, I know! So I'm like, "we need to finish the arc!" So I don't want to say Alpha Girl is just me. It's a vehicle for our original vision. To have books that were female-friendly, that were inclusive, that anyone could read. Actually, primarily guys buy them. Which wasn't the original intent, but it fills a niche because there's plenty of other stuff for people to read. This is stuff that you can share with the entire family. I have a lot of both men and women who buy it, and then they have their parents read it, then they're parents really like it. I'm like, "yes!" I mean, that's what it's about right? They should be for everybody. So in that respect it does fulfill its objective. You know, comics for everybody.
Do you ever see yourself expanding Alpha Girl to include more creators?
Yeah! Actually, with Girls Night Out #3, I just started doing that. So there are two stories in here by different creative teams. Up until now almost everything else is by me, but I added two stories in here that were done by some other women that I know. I'm not doing exclusively women, but these were really kick-ass teams so I wanted to put them in. So yeah, baby steps, right? I'm working on a food and comics anthology right now, so we'll probably put that out through Alpha Girl as well.
What's the time table on that?
Anthologies are tough because I have a couple, like…Becky Cloonan, I got something from her. You know, you kind of like…if they're free and they have something. But it's getting pushed back a little because I'm also working on something with Janet Lee, who did Return of the Dapper Men and Lost Vegas. So she just turned in something, so I think that is going to end up coming out before the Girls Night Out #4 and the food and comics. So it's a lot of stuff going on.
You can buy Amy Chu's comics – including the Girls Night Out series – at Aw Yeah Comics in Muncie, at Downtown Comics North, or any of the other shops listed on her website. You can also order them online, via the Alpha Girl Comics website.
If you missed the signing, Amy will be back in town March 13-15 for Indiana Comic Con.
Now, as is our custom, let us discuss
Books I'm Picking Up This Week:
All-New Hawkeye #1
Descender #1
Lady Killers #3 Learn to Draw Archie and Friends
Saga #26
X-Men #25
Oh, man the Archie one. I'm gonna buy it. And I'm gonna draw a bunch of Riverdale peeps. And I'm gonna be very happy.
Unless there's no Valerie. We are looking at a high-drama situation if there's no Valerie.
Need to know where to find comics? We've been over this.
Also, if there's an awesome comic you think I should be reading, or comics stuff you'd like to read about here, let me know!
Well, maybe don't let me know about more comics. My pull list is almost two pages long, and there's some gooooooood looking books on the way. I do not need enablers on that front.