Superhero comics have some capital-B, capital-E, Big Events coming up. Convergence started last week, Secret Wars is on its way. Multiverses are – hopefully – about to be smushed together like old Play-Doh. And if they majorly change the status quo afterward, it could be really cool.
But maybe that's not your thing.
Maybe you want something more in the fun, slice-of-life, kind of realm. Something that's funny, creator-owned, and doesn't have decades of continuity to contend with. I get that! And I have the perfect book for you.
It's about a superhero.
Faith Erin Hicks' Superhero Girl has capes, it has laser eyes, it has secret identities. It has property-endangering super-powered fights with villainous monters. But that's not really what it's about. It's about being sort of unsure of yourself, and too-perfect older siblings, and rent troubles. You never have to worry that anyone is going to get their heart punched out by a Super Sentinel, but Hicks still creates a character that you care about and relate to. When Superhero Girl's every heroic feat it met with a shrug from the gathered crowd, you understand that frustration. You've had that frustration. You probably didn't have it after tossing a fire-breathing (but adorable) giant octopus/ into space, but you've had it. And since I once got to the store before questioning if I had changed into Real-People Pants before I left the house, I can empathize with her habit of forgetting to take off her mask.
Hicks' art give the characters a sense of life and expressiveness. If SHG is panicked, it shows both in her face and in the way she carries herself. Her "heroic pose" has a sense of uncertainty and performance. When we see the oh-so-perfect Kevin in the same pose, his body language makes it seems like "benevolently survey the city he protects" is basically his default position. SHG, by contrast, seems most at home when she's…at home. When she's not kicking butt, she's a regular person. The facial expressions convey a lot, too; SHG's frustrated sulk is a thing of beauty. Kevin's smile is perfectly balanced because Hicks manages to make him look extremely pleased with himself, while still making him seem like a fundamentally sweet guy. In the print edition you also get colors by Cris Peter. Peter's warm color palette helps add depth to each panel. Hick's artwork is great, but it reads a lot more clearly with the addition of Peter's colors.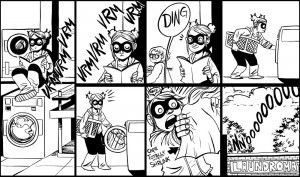 The comic is available in it's entirety online, but if you want it in color (and let's be real – you do) you can buy the Superhero Girl hardcover via that handy Amazon affiliate link. It makes for a quick read, but the re-readability on this book is high. Honestly, it probably belonged in my "desert island" list on last week's podcast, but I had answer off  the top of my head.
Don't you know that I need more time than that, Tony? I need to prepare! To make lists! To sit on the floor in front of stacks of trades and graphic novels, painstakingly editing until on five remain! THESE THINGS ARE TOO IMPORTANT TO BE SO CAVALIER, MAN!!!
Anywho…
Books I'm Picking  Up This Week:
All-New Hawkeye #2
Bee and Puppycat #8
Convergence #1
Convergence: Batgirl #1
Convergence: Harley Quinn#1
Convergence: Question #1
Convergence: Speed Force #1
Descender #2
Help Us, Great Warrior #3
Saga #27
Spider-Woman #6
Storm #10
Captain Marvel Vol. 2
So…big week. I am pulling a lot of Convergence considering I don't reeeeeeeally understand the event.
The green guy is a robot guy is a planet? Domes, maybe? Should I know who "Dox" is? Was "Dox" even the name they said? Time for a Wikipedia visit.