This Saturday is the first Saturday in May. Which means that this Saturday is Free Comic Book Day. If you're familiar with it, you probably already have your game plan. If you're not, then fear not! We got you.  Tomorrow, Tony will have a run down of all the special events at stores in and around Indy, and today I'm here to talk you through what Free Comic Book Day is all about.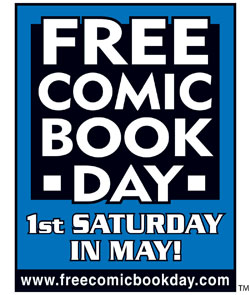 On Free Comic Book Day, publishers release special comics that stores (and some libraries) give away for free. You can find a full list at the Free Comic Book Day website.
Now, I got TIPS!
Know What You're Looking For:
Some places only let you take a limited number of books, so it's not a bad idea to have a list in mind. Also, some books are double-sided, so don't miss grabbing Teen Titan, Go! because Scooby-Doo Team-Up was the cover you saw. Same with Kate Beaton's Step Aside, Pops and Jillian Tamaki's Super Mutant Magic Academy. Though you should want both of those, because they both look awesome.
Choose Your Timing Wisely:
Stores can have lines that form well before the doors open, and may stay crowded until late afternoon. If you have specific free books that you're hoping to grab, you're going to want to show up early. If you are just looking to check out the event, or you don't want to deal with crowds (which, yeah…I feel you), later in the day might work better for you.
You Might Not Get the Books You Want:
On FCBD, the books are free for you. They aren't free for the stores, though. That means that they're only going to have so many copies on hand. They'll probably have fewer (if any) copies of the less-mainstream books. Other books will be in high enough demand that they'll run out quickly. If you do chose to come out later in the day, be aware that pickings might be slim.
It's a Great Time to Introduce Your Kids to Comics:
Oh my gosh, the all ages books on Free Comic Book Day. You want Avatar? They got Avatar. Sonic? That, too. Cleopatra in Space? You might not know it yet, but you want that book. It's has space cats. SPACE. CATS.
Just Not All the Comics:
Hey, you know what isn't a great free comic for your 4-year-old? Fight Club 2.
Or maybe you're down with that, I don't know your life. But if you're going to train a Baby Tyler Durden, you should do it intentionally. Because getting a 3T version of that jacket is going to take some doing. If that's not really your scene, make sure the books your wee ones grab are books you're okay with them grabbing.
Maybe Buy Some Stuff, Too:
Like I said, you get these comics for free, but the stores pay for them. They do that because free comics give them a chance to attract new customers. A lot of stores will also put merchandise on sale that day, so take a look around and consider making a purchase. Or if that's not feasible, keep the shop in mind the next time you have some comics or geek ephemera you're looking to buy.
Now you're (nearly) ready! Tomorrow, Tony will tell you what's going on at stores around town, and where he'll be (short answer: EVERYWHERE). I'll be at Downtown Comics North all day on Saturday helping hand out books. If you run into one of us, be sure to say hi! If we respond with glazed, unseeing stares don't take it personally. We're just so very tired.
And now…
Books I'm Picking  Up This Week Once I'm Done Standing Behind a Table Handing Out Free Books and I'm So, So, SOOOOOO Tired and I Just Want a Beer and a Nap, and Maybe a Cookie:
Bitch Planet #4
Convergence #4
Convergence: Shazam #1
Jem and the Holograms #2
Secret Avenger #15
Silk #3
They're Not Like Us #5
X-Men #26
Gotham City Sirens Vol.2