I just got back from the coolest show.
Context: I make comics. You knew that, right? Okay, cool.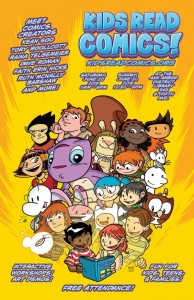 Last weekend I got to go to Kids Read Comics, an all-ages comic convention put on annually at the Ann Arbor district library. I'd actually never heard of it before, but Team Geeking member Samantha Kyle and her husband Lee Cherolis (artist on Little Guardians, which you're obviously reading because you know you deserve nice things) looooooooooove this show, and invited me along this year. They're also both members of MLP:FiM fandom band The Shake Ups in Ponyville, who played a show on the first day, and served as house band for the Kids' Comics Revolution awards ceremony. Look upon our row of magical friendship goodness: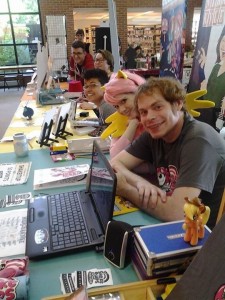 The show is put on by people who care deeply about kids' comics, and it shows. All of the creators I got a chance to meet were friendly and engaged, with tables full of great all-ages comics. Plus, the slate of programming that they put together is insane. There were signings all through the weekend, and various quick draw events that encourage audience participation. Lee and Sam spent an hour teaching kids how to draw ponies, and someone else ran a sidewalk chalk comic jam. There were also SO. MANY. Educational panels. On Friday there were multiple talks about incorporating comics as an educator. Saturday and Sunday brought lots of opportunities for kids and teens to learn about cosplay, storytelling, page layouts, and a million other cool things.
And now, since we're here, let's talk con haul. There's going to be a ton of links because people make cool stuff and I want you to see all the cool things. Also, I meant to get a photo of Lee and Sam's, but Ann Arbor is a long way away and by the time we got back I was drowsy and forgetful. But here's mine: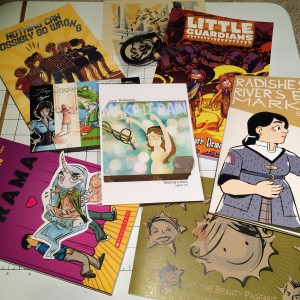 I grabbed an awesome print and necklace from Sam, Little Guardians volume 2 from Lee (with a dooooooope Soma sketch, since I'm a Patreon supporter), a sticker from Emily Zelasko, an Apooka book and print from Jon Hickey and Mike Roll, and Radishes at River's Edge Market by Carolyn Nowak. Green Brain Comics (run by still more super-amazing people) also had a table where there were holding signings and selling those people's books. I was able to grab Drama by Raina Telgemeier and Nothing Can Possibly Go Wrong by Prudence Shen and Faith Erin Hicks, and get them signed by Raina and Faith respectively. I was slightly bummed that I failed to pack my copy of Adventures of Superhero Girl to get it signed, but the book I got is about BATTLE BOTS, so I'm pretty okay with how things turned out. Oh – be aware that the three Amazon links (for Raina Telgemeier and Faith Erin Hicks' books) are affiliate links.
I also bought a really cute ring from Lauren Jordan, but I broke and lost it the next day, because I'm a stumbling disaster-person. I'm probably going to comfort myself by buying this necklace.
Have I been effusive enough? Are you going to go to this magically wonderful unicorn of a show next year? Ann Arbor's not that far! I know I said it was earlier in the post, but I was just whining. I do that sometimes. I don't need your judgement.
Oh – one last link to add to this LINK MOUNTAIN. Indy PopCon is this weekend, and I'm going to be on the Men In Comics panel. It's on Sunday, you can click that link to add it to your con schedule, and it's full of COMPLETELY AWESOME PEOPLE. We're all really excited about it, and it's going to be so much fun.
Books I'm Picking Up This Week:
Infinity Gauntlet #2
Jem and the Holograms #4
Kaptara #3
X-Men '92 #1