Um, you guys?
There's a comic with robot fights in it and I didn't tell you. I hope that in time you can learn to trust me again.
In my defense, I didn't know this comic had freaking battle bots in it until the end of June – prior to that I just wanted it because it's a co-created by Faith Erin Hicks and I'm all heart-eyes for her work.
But still…I kept things from you. I'm sorry. Let's grow past this. Let's talk about…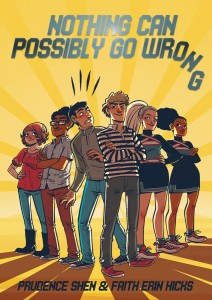 Nothing Can Possibly Go Wrong, by Prudence Shen and Faith Erin Hicks (that's an affiliate link, btw).
We've established the battle bots. This is now a known quantity. But before we get there, this book provides two other things I love:
1) Well-realized emotional arcs, built in a way that feels authentic and unforced.
2) A highly regimented group of teen girls, willing and able to absolutely destroy you if their leader deems it necessary.
Seriously, the cheerleaders in this book are terrifying and awesome from the moment they appear, and I'm 100% in love with them. If Hicks and Shen ever feel inclined to double back and tell more stories about this cheer squad, I solemnly swear that I will buy it. That goes double for any book about robotics team member Joanna. She also has zero time for attitude and/or guff, and what she lacks in henchpeople she makes up in robot piloting skills.
The story centers on Charlie, captain of the high school basketball team and all-around good kid. Charlie's dad is always out of town, his mom has moved away, and he's a little sad and angry. Charlie's friend and neighbor is robotics club president Nate. Nate is kind of a tool. Actually, Nate veers close to being a major tool. But he's a tool in a high school kid sort of way that I could eventually forgive. Nate's nemesis is Holly. She's head cheerleader, Charlie's ex-girlfriend, and a ruthless adversary. Nate and Holly are facing off over the rare commodity that is extra-curricular funding. Nate needs it to take his team to nationals, Holly needs it for new uniforms. And Charlie is caught in the middle of a steadily escalating battle. That's where we start. And I'd like to remind you again that from there, we proceed to freaking BATTLE BOTS.
There's some pretty heightened elements to this premise, and it's silly and fun. What makes the book great, though, is that through all of that Shen and Hicks quietly building an emotional narrative. The information never feels forced – it builds gradually in between hijinks. It's helped along immensely by Hicks' skill as a visual storyteller. I've talked before about Hicks' ability to convey emotions effectively, and it's present here as well. With Charlie, we get a lot of insight into his emotional state without having to squeeze in a ton of exposition-heavy conversations about his feelings. With the side characters, it means that they get the chance to be developed even in a story that doesn't have room to spend a lot of time with them. We don't need to be told when someone starts to like someone they mistrusted before – Hicks shows us. What I haven't talked about before are Hicks' action sequences. The actual robot battles are fast-paced, high energy, and funny. Most importantly, though, they read clearly. With all the action and motion being conveyed in each panel, you can still tell what's going on. Considering that quick visual cues like slumped posture or triumphant smiles are of the table for this (because tiny faceless robots), that's pretty impressive.
I don't really have a closer.
*curtsies*
*eyes you nervously*
*bolts*
…
*comes back*
Books I'm Picking Up This Week:
Amazing Spider-man: Renew Your Vows #3
Infinity Gauntlet #3
Ms. Marvel #17
Ultimate End #4
Wicked and The Divine #13
…
*bolts again*