Hey, yo! Let's talk about horror comics.
And yes, we could wait and do that in October, but dammit I'm a rebel.
…I'm also not that into horror. Which makes this topic choice seem strange, but horror comics occupy a magical sweet spot for me. I can deal with all things gross and scary much more readily if you present it to me in panels rather than frames. Which doesn't mean that I seek them out actively, nor does it mean that comics never freak me out. But these are just so good that it's (mostly) worth it.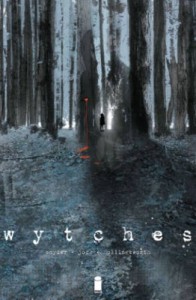 Wytches – written by Scott Snyder, art by Jock, colors by Matt Hollingsworth
Wytches is a mini-series that was released earlier this year, so the trade available at the link above is the whole shebang. It's a comic about a teenage girl who's having a tough time at her new school because of rumors about what made her leave her old school. Her parents' relationship seems to be a bit fraught, and they can't seem agree on how to help her.
Also, there's a tree full of scary-looking witch monsters that will drag you underground and make everyone forget you ever existed.
Jock does a lot of interesting things with panel layouts throughout – panels that are off-kilter, panels floated in other panels – but it still leads you along the page well. Hollingsworth includes a lot of textures in his color work for this book. There are semi-transparent splotches of color laid over the art that work with Jock's layouts to convey the feeling that things are not as they should be here.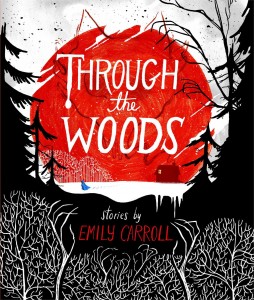 Through the Woods – by Emily Carroll
Through the Woods is an anthology of short horror comics. Carroll's stories remind me a bit of fairy tales. The old kind. The kind where birds peck out your eyes or wickedness is punished by being pulled to the bottom of the sea. They have a lyrical, flowing quality but they're also menacing in a quiet sort of way. Most of the stories feature protagonists haunted by something insidious and subtle. What do you do when there is a monster standing in the middle of the room, idly chatting with everyone, and no one knows it but you?
Locke and Key – Written by Joe Hill, art by Gabriel Rodriguez, colors by Jay Fotos
Locke and Key is lovely, but it's a little intense. The series is completed, and all six volumes are available in trade. It opens with a family being pretty brutally attacked, and their father is killed. I want to be very clear that this is pretty upsetting, and it isn't brief. They duck in and out of this scene in flashback for most of the first issue. The remaining members of the family move to the Keyhouse – an old and dilapidated family estate in New England. The Keyhouse has keys. Like the ghost key, which lets you float around as a ghost and leave your body behind. Or the head key, which lets you open YOUR BRAIN. There are other, more dangerous keys to be found. There's also someone/thing who has plans. Over the course of the series, you learn a lot about the surviving members of the family, as well as the history of the house. The emotional stakes are raised throughout the entire story, which keeps all of the creepy magical stuff grounded in a character-driven story.
So go check out these oh-so-lovely books, then recommend some of your favorites!
To each other though. My horror threshold is very low, and I'm about maxed out right now.
Oh, and the Amazon links for each title are affiliate links. You can also get Wytches and Locke and Key via Comixology, and all three can be grabbed/ordered at your comic shop of choice.
Books I'm Picking Up This Week:
A-force #3
Gotham Academy #9
Secret Wars #5
Unbeatable Squirrel Girl #8