Continuing our ongoing series of "Comics Bri Takes Pretty Personally" today seems like a good time to chat about my love for Bryan Lee O'Malley's Seconds.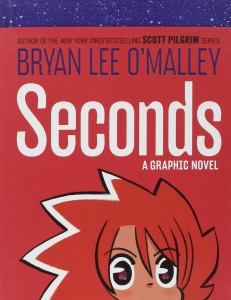 Even if you aren't familiar with Seconds, you're probably familiar with some of O'Malley's work. His graphic novel series Scott Pilgrim was  popular enough to spawn a movie, and a set of full-color hardcover special editions. You liked all of those, right? Even how the books sort of snuck up on your emotions?
Good. Then I totally recommend Seconds. 
It's about Katie, a chef who's on the path to owning her first restaurant. Then everything starts to go poorly for her. There are problems at her current restaurant, money issues with the renovations of her new one, and the sudden reappearance of her ex-boyfriend. Luckily, a mysterious girl appears in her dream to point her towards a small box. In it there is a notebook, a mushroom, and a note saying to write down her mistake, eat a mushroom, and go to bed. When Katie wakes up, the mistake she wrote in the notebook is undone!
Things proceed poorly from there.
I've talked before about how there are some character types that usually work for me. If I had to guess, I've probably already covered my weakness for magic users, teen detectives, and sunny blobs of chaos. Katie is one of my other favorite types: the ever-striving screw-up. She's determined and capable. When she's in her zone, she's confident and self-assured, but you take her out of that and her footing gets less certain. She's intent on pushing through and doing everything herself, and when that gets her into trouble her impulse is to push more. She's sure she's messed everything up and sure she can fix it all. It's possible that I'm projecting.
Being that sort of person means that Katie, upon seeing one of her mistakes undone, decides to fix even more. And when that makes a mess of basically every aspect of her world, she just tries to fix more. She ends up in a catastrophic mess entirely of her own making before she actually pulls back enough to get any real perspective on it.
There's a lot of magic-y stuff to the book. Presumably you guessed that. But for the most part it's about a person who's determinedly staying the course, because she can't see that she has any other options. With all the her attempts to try to shortcut her way to being better Katie loses something, but she thinks the only way out is forward. It's high-energy self-loathing combined with magic and it's wonderful.
Lastly – bonus thing! O'Malley's art assistant on the book, Jason Fischer, made a memoir comic called Seconds Helping about his experience working on this book. I haven't read it yet, but you can get a PDF (along with PDFs of other comics he's done) when you support his Patreon.
Books I'm Picking Up This Week:
Lumberjanes #17
Marvel Zombies #3
Spider-Woman #10
Zodiac Starforce #1