In seventh grade I started at a new school. I remember being struck that there were suddenly groups. In sixth grade, there were kids you were friends with and kids you weren't. But it seemed that over the summer, someone had reorganized the social structure by themes. Suddenly there were band kids, and skaters, and preps. You hung with your group and there was minimal room for crossover.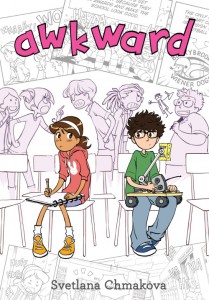 So it is in Svetlana Chmakova's wonderful graphic novel, Awkward (that's an affiliate link). Penelope (Peppi) Torres starts at a new school and quickly falls in with the art club. Now she has friends that share her interests, and a way to keep off the radar of the mean kids. She also has enemies – part of being in the art club is a pitched rivalry with the science club kids.
Peppi also has some serious guilt. On her very first day, she trips and drops her books. The kid that goes to help her, Jaime, is picked on a lot. And seeing her get help from him is all it takes for the aforementioned mean kids to deem her the "nerder girlfriend." Freaked out by being under the social magnifying glass DAY ONE, Peppi shoves Jaime and runs. She feels bad about it, but can't bring herself to approach him and say so.
The story Chmakova lays out from here is open-hearted, optimistic, and genuine; emotional beats are earned, not forced. There are also some wonderful characters. Art club member Jensen is a wee baby conspiracy nut, and it's adorably hilarious. And, oh my lord, Miss T. She's the science teacher/science club adviser and every writing and design choice Chmakova made here makes my heart sing. She's no-nonsense, but genuinely excited about teaching. She has natural hair, with a white streak in the front. SHE HAS A MOTORCYCLE JACKET THAT SAYS "SCIENCE" ON THE BACK.
The art is this comic is fantastic – Chmakova's muted color palette sets a really nice, welcoming tone. Also, the character work is so expressive. Which I say a lot, but only because for me it's a key component of liking a comic. Expressive characters are what sells the emotion of what's going on in the story, and it makes a HUGE difference. In Awkward, this is achieved not only through the characters faces and body language, but with some really great word balloons. You can tell when characters are excitedly shouting, when they're grumbling, when they're wavering with embarrass. She conveys these delivery changes without it ever feeling obtrusive or breaking the flow of reading.
The book is listed as being appropriate for 5th grade and up, it's freaking wonderful, and yes there may have been one character who had a moment that very nearly made me cry but LET ME HAVE MY MANY EMOTIONS.
For real though, I picked this book up knowing nothing other than a vague recollection of people on twitter talking about it last month. I'm so glad I read this. You should check it out.
Books I'm Picking Up This Week:
A-Force #4
Bitch Planet #5
Ms. Marvel #18
Tet #1
Wicked + The Divine #14