So, this is the end of Wednesday Comics.
Well, I mean, comics will still come out on Wednesdays. And there may still be comics posts here. It's just the end of me.
On the blog. Not broadly. I intend to keep existing in a general sense.
So as my Final Act of Blogging, I want to ask you to go make comics. You basically have to do it – it's my final blogging request. Honestly, you should have seen this coming – a few weeks ago I tried to convince you to do 24-hour-comics day. My end game was pretty clear.
Making comics is hard, but starting is easy. Take a piece of paper. Draw some squares on it. Put pictures in 'em. Words too, if the mood strikes. You have made a comic!
Do you love it?
Maybe you do! Possibly, you suuuuuuuuuper don't. The first time I made a comic, I vacillated wildly between the two. And now it's just the latter. I… oh man. If I had to pick between singing that Goo Goo Dolls song from the Nic Cage Angel Movie on stage in my underwear and watching a group of people look at my first comic pages, it's underpants angels ALL THE WAY.  The fact that they exist on the internet is just proof that I should have followed through on the big computer-y plans I made during my many youthful re-watches of Hackers  and Masterminds.
But I kept going. And you can, too. Because in your next comic, something that didn't work this time might click. And if it doesn't? You keep going. You make the next one. Maybe you don't love doing it, and you stop. That's okay, too. You tried a thing. Maybe gained appreciation for just how much energy can go into making a comic happen.
But maybe, even looking at something that didn't turn out how you wanted it to, you're really excited about making comics.
I'm going to pause here to restate something. I'm deeply uncomfortable with sentimentality. I appreciate it in other people, but I'm baffled by it on a personal level. I don't understand how to navigate it, I'm generally terrible at it, it's this whole thing. I will never write you a birthday card that makes you cry. But I get all feelings-and-emotions about comics. And then I get uncomfortable about feeling that way. It's very weird for me. I mitigate my discomfort by planting a big "I feel weird about this" flag in the middle of it.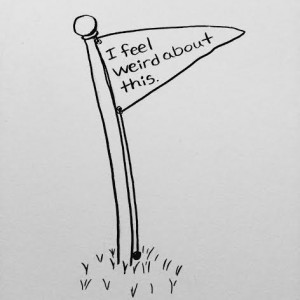 Anywho, if you get really excited about making comics, this whole world of new stuff to learn suddenly presents itself to you.  Which, if you're really into learning stuff, is pretty cool. Here's a few things to check out:
Scott McCloud's Understanding Comics (affiliate link) – This appears on EIGHT MILLION different "how to comics" lists for a reason. Even if you don't want to make comics (I didn't when I was gifted this book) it has some really interesting breakdowns of how the medium functions.
Faith Erin Hick's Tutorials – Hi. I've talked about Hick's work basically every 3rd week. She's also written a lot of interesting posts on process. Again, these are cool even if you don't want to make comics.
IndyPendent Show – This is a local show that takes place twice a year. The next one is November 15th, and it is specifically geared toward creators at any level. The panels are all education-driven, and you're encouraged to ask the people tabling any questions you may have. Also, you can come see me there.
Kyle Latino's Secrets of Drawing Comics THEY Don't Want You To Know – Kyle (whose Patreon you've seen on Tuesday Tidbits, and whose name you've heard on the Podcast) gave this talk at Appleseed this  year, and it's on YouTube with audio and slides. It breaks down a lot of things about panel layout, what it needs to achieve, and how to go about it.
Indy Webcomics Group – Getting to meet other cartoonists is amazing. I'm all heart-eyes and star beams for IWG, which is a meetup group that is open to anyone who wants to check it out. Everyone here is nice, and wonderful ,and makes awesome comics, and we are getting pizza on Friday and you should come to pizza. But RSVP, because that place gets crowded.
Literally any comic ever – I'm not just being a tool here. If you're reading a comic, take a second to look at it closely. Think about what they're managing to tell you and how they're achieving that. Do it for things that are like what you want to make! Then do it for things nothing like what you want to make! There's SECRET KNOWLEDGE all over the place!
There are certainly more structured and in-depth lists out there – that's not really the goal here. There are roughly a million people out there more qualified than me to tell you what to do to get more dynamic action shots or perfect your representation of human anatomy.  This is about getting a basis. From there, if you're so inclined, you start carving a path for yourself. You practice, you try new things, read more, learn from other cartoonists. You take your approach and you make your comic.
Even if making comics doesn't seem like your thing, I still think there's merit in those resources. There's a lot to unpack in the comics-making process, and a lot of cleverness in telling a story with still images.
So go out and make some stuff and/or learn some stuff.
Because, comics.
Books I'm Picking Up This Week:
Bad Machinery Vol. 4
Giant Days #7
Gotham Academy #11
Lumberjanes #19
Nutmeg #5