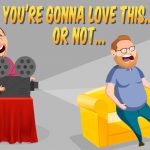 Welcome to Year Two of You're Gonna Love This… or Not…! For those who have just joined us, this podcast features Matt, who loves watching bad movies in his basement, and Josh, who loves giving Matt grief for his love of bad movies. Every month, Matt is going to bring Josh down to his Subterranean Fun Pit (aka, his basement) and show him one of his favorite bad movies, hoping to find one Josh loves, or at least likes a little bit. On occasion, they bring in guests.
The social distancing is continuing this month, so Matt was unable to lure Josh into the SFP. However, Josh now has a computer, Plex has a new group watch option, and Tony has Zencastr, so we have a new episode this month! Matt is threatening a "Summer of Shark" kicking off with this month's selection, Bait. Joining them on the recording this month is Producer Mike, with Tony popping in a few times as he runs the recording. So, sit back, and let these chuckle heads fill your ears with talk of sharks in supermarkets and parking garages for the next sixty four minutes.
NOTE: You're Gonna Love This… or Not… contains harsh language, and reviews R-rated films, so it is not suitable for younger listeners. Worse, it contains spoilers.
 Time stamps!
0:00 – 0:04 Language Disclaimer
0:05 – 1:52 Introduction – Matt calls Josh
1:53 – 2:34 "Our Big Adventure" by Scott Holmes
2:00 – 2:30 Introduction, Movie Title Announced
2:35 – 4:55 Trailer, Bait
4:09 – 1:03:18 Post-movie Discussion
1:03:19 – 1:04:06 "Ukulele Whistle" by Scott Holmes
1:03:29 – 1:04:06 Outro
Links of note!
Featured Movie
Mentioned in the Episode
Other Movies and Television Series Mentioned
Where to find the cast online!
Music featured on this Episode

Opening track: "Our Big Adventure" by Scott Holmes
Closing track: "Ukulele Whistle" by Scott Holmes
All tracks off of Scott Holmes' "Happy Music", used under non-commercial/attribution license through the Free Music Archive (LINK).

Where to find the Podcast online!
Contact the podcast!
Support the Podcast's Host
All notes for this episode can be found at http://geekinginindiana.com/yglton-y2e06/
Thank you all for listening! As always, be excellent to each other, and to yourselves! I'll see you all soon!