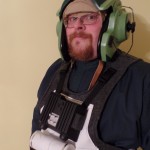 My favorite film series to replicate props and costumes from is the original Star Wars trilogy: Star Wars, The Empire Strikes Back, and Return of the Jedi. In the past, I have talked about, and shown, pictures of my X-Wing Pilot gear, and my Rebel Fleet Trooper gear. However, the gear I've wanted, even before the formation of the Rebel Legion, was the obscure A-Wing Pilot from Return of the Jedi. Yeah, they had maybe a solid seven seconds of screen time, but I loved the ships, and because of that, I wanted the pilot costume. For years, I would look at pictures, bad screen shots, and try to guess things, but after a while I just gave up, along with most of the rest of my love of costuming, and went about my business.
Fast forward to 2014, and I catch the news that the local Star Wars costuming group is working on a group of A-Wing Pilots.
Heck.
Yes.
They had everything down: Plastic helmet kits were coming from a Legion member in Germany. The soft AN H 15 cap helmets were from another member in Colorado. Phil, one of the local crew, spearheaded a group assembly of all of the soft parts. It was a beautiful, glorious thing.
Through some borrowing, and some budgeting, I was able to get in on a lot of this. It took a while, and a bit of procrastination (I'm writing this at 1:42 AM, and I have a bit of glue still drying on the helmet), but I am finally back in the costuming game.
Now, are these pieces perfect? Not quite. Up until recently, the best anyone could do to replicate these would be to screen capture the films, or go off of action figure art. Now, thanks to the Star Wars Costume book, there has been new reference of the screen used costume, from the archives, that is showing a lot more detail. However, that's the nature of the beast with these sort of costumes, isn't it? I remember when I put together my X-Wing Pilot costume for San Diego Comic Con back in 2001. It wasn't bad. It was rushed, but it wasn't bad. Now? I'm almost ashamed to show pictures of it. This is just how these things work.
In the meantime, it's a great costume that I'm looking forward to wearing tomorrow at the Lexington Comic and Toy Convention. If you're interested, feel free to check out the Flickr album for the A-Wing Pilot that I put together, showing a lot of the pieces in their raw form, and some of the steps I took to put together the things I had to assemble.
So, for those who are keeping track, that's one down. Now, I need to get another X-Wing Pilot, B-Wing Pilot, and  Y-Wing Pilot to complete my Star Wars costume wish list.