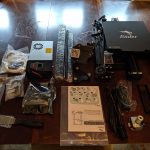 It's been a long road, getting from there to here….
A few years ago, a friend of mine offered to sell me his 3D Printer. It was a Monoprice Maker Select V2 (link) that he'd used for a bit, did some modifications to, bought a ton of filament for, and then needed to unload. I decided to take a look at it, got it from him, and it proceeded to let it sit and gather dust for about a year here in the Geek Cave. See, all of this is very new to me, and while I'm fairly confident in my abilities to build something out of the box, and then upgrade and modify it, I'm not one hundred percent confident in my abilities to work with something that's already been modified. So, I kept holding off on it, watching videos on the printer but not ever really doing anything with it.
Fast forward to earlier this year, when Lizz and I went up to the Midwest Rep Rap Festival, or MRRF, in Goshen. Looking around at everything, and talking with some of the people tabling at the event (including people featured on the podcast), made me realize I was just being a paranoid fool, and on the drive home, LIzz and I discussed our plans to pull out the printer, clean it off, set it back up, and trying this thing out. Sure enough, the next day, we took the printer, cleared off the dust and cat hair, looked over everything to the best of our ability, loaded up a spool of filament, went through the process of leveling the bed (I hate this part!), and ran some tests.
The first few prints were having issues sticking to the glass bed, so we laid down some painter's tape and I pulled out a glue stick. Then, the prints started working for a bit. The first test print ended up being a small butterfly, which Lizz brought with her to work. The second was a small easy chair, which had some holes and layer issues, and is currently sitting on my desk as a chair for my Black Series Porgs. The third file on the included memory card was a swan, but here's where I started having issues.
As the swan was printing, something happened as it was printing the neck, and there was a mass of filament when I went to check on it. After I got everything cleaned up and tried another print, nothing would come out of the nozzle. So, I ordered some small drills, and proceeded to clean out the nozzle. This worked for a bit, and we got most of a small Groot planter (link) printed, as well as a holder for my headphones (link). This was the last piece I was able to print successfully, and even then I had some issues.
After the headphone holder, I started having problems. In attempting to print the "Benchy" (link), the filament stopped feeding, the same way it did on the swan. I attempted to clean out the nozzle again, and nothing. I took apart the extruder, as a video on the printer commented on one of the gears not catching filament properly, and that didn't solve anything. I ended up removing the nozzle, and fully cleaning it out. It worked for a few layers, but then I started having issues with the layers sticking to each other. I swapped cooling fans, checked fan settings in Cura (the program used to make those fancy files you see on site like Thingaverse work on your printer) (link), and essentially exhausted every option I found via YouTube and Google to no avail. With this, I decided to stop putting time and money into the Monoprice, and switch printers.
While I would LOVE something from SeeMeCNC, I don't have the funds for that. However, I do have some supportive blog and social media followers that helped me get squared away with an Creality Ender 3 Pro, which was recommended to me by a friend who uses them for his job. I got mine through Amazon (Affiliate Link) for $229. This is where I'm sitting right now, though it has not been without its issues.
Last Thursday, Lizz and I spent about 3 hours putting it together, making sure pieces were squared up and level to the best of our ability. Saturday evening, I started running it through bed leveling and I found out it is binding on the Z Axis, which means it will start moving up, and then get stuck while the motor keeps running. This can, obviously, burn out the motor pretty quick. So now I'm working on figuring out which YouTube video covering this issue will help my problem. I'm hoping it's the one that just has me moving a piece up a little bit, and not the one that involves printing shims, since you know, I can't print anything right now. *laughs*
Luckily, I'm much more comfortable messing with this printer than I was the previous one. This one, we put together out of the box. I know how to take it apart and put it back together. There is a wealth of information for it on both YouTube and Google. That's the great thing about coming into this part of the hobby after so many other people have. If I run across a problem, then it means that someone else probably has, as well.
So here we stand, after a few months of work, I still haven't printed out a full size R5-D4 (link). However, I AM learning a bit more about the technology, and I know it's not something that will just happen overnight. If I make any great strides, keep an eye on the blog, because you know I'll be writing about it. I've got a lot of stuff I'm wanting to print, from household items to prop and costume pieces, and then I'll get to learn how to finish them so they look like actual props, and not just thin layers of plastic.
I know it's a journey that has been taken a thousand times before, but it's my first time taking it. I hope you all enjoy the trip with me.
-Tony
This slideshow requires JavaScript.