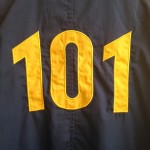 I know I've said before that I'm a crafter, a creator. I enjoy making things with my hands. I used to work in fiberglass and resin. I've helped create make-up in foam latex and silicone gel. I've dealt with vacuform machines, expanding foam, wood, and even helped with cast metal pieces. However, I am not a cloth person. I'm horrid with a needle and thread, and I trust myself more with a band saw than I do with a sewing machine. I would rather pay someone to make soft parts for me, than make them myself. This is why I was so thrilled with the Anovos BSG Double Tanks, because they were affordable and well done.
Looking at r/fallout on Reddit a few months ago, I was looking in jealousy at the costume threads, when one caught my eye. It seems that Bethesda's merchandising department had an stroke of brilliance, and instead of just making Vault 101 hoodies and track suits, they actually made a Vault 101 Jumpsuit! Yes! One of my Costume Initiative items is readily available from the company who makes the game! So, being the poor broke blogger I am, I put it on a birthday wish list, and it turns out that I am now the proud owner of one!

The Vault 101 Jumpsuit from the Bethesda Store features, from their website: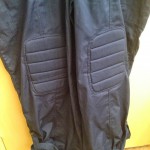 101 logo embroidered in satin on right collar
101 logo patch on the back with satin threaded border
Velcro closures on hips and writs
Padded faux knee guards
Convertible pant legs
Eyelets for breathing
Side patch pockets and hip utility pockets
Two-way zipper
This description is what sold me on the suit, and it's accurate. The numbers are fantastic, the velcro on the waist will hopefully help me size it down a bit as I lose the belly, and the poly/cotton blend, while not as stiff and sturdy as I would think a jumpsuit like a Vault Dweller suit would be, is still very sturdy, and it's not like wearing a lighter weight flight suit, or something similar. The snaps and straps at the pants cuffs work great for leg length, something that is always hard to judge when doing a mass produced jumpsuit/coverall. My only wish there is that they had put two snaps and straps on each leg, one on the outside, one on the inside, so the inside doesn't droop.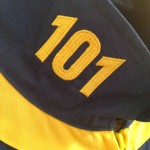 I have seen some complaints on the Replica Prop Forum about this jumpsuit, mainly concerning the fabric choice, the baggy fit, and how some of the seams aren't right. Personally, I'm okay with this. The people making the complaints are the kind who can accurately reproduce what they're seeing in the video game. Personally, the best I would be able to do is buy a set of work coveralls, attempt to put on the padded knees, and add the yellow front and numbers to it. That will cost almost as much, and will not look nearly as good, so this is what I'm going with.
Now, of course, this is just a base. A Pip Boy 3000 is needed, of course, but that's not all. I need to "wear" it down a bit. It's too dang clean. I have a belt and a shoulder piece that needs added to it. I need to figure out weapons to carry. including "That Gun" because I've always wanted an excuse to get a replica of a Blade Runner pistol. Of course, I also need to figure out which energy weapon I wish to make. However, these are all going to be future posts. For right now, I have the jumpsuit hanging in the Geek Cave, waiting for me to work on it.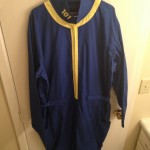 The Vault 101 Jumpsuit is currently available from the Bethesda Store, at this link. At the time of this writing, it costs $69.99,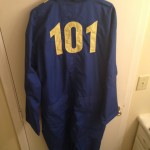 marked down from $85, which makes it even more of a killer deal than it was when it was purchased for me as a birthday gift. Update: 8/2014: It appears that this jumpsuit is no longer available. I do not know if the Bethesda Store will offer another version, or what their plans are. I will keep my eyes open, and update this post if I see more information. However, I still maintain that if you can find one on eBay, and if you're looking into this costume, I definitely give it a recommendation.
Tony
Disclaimer: This review is written because this is a costume piece I genuinely like. The gift was from my parents, not from Bethesda. I was in no way compensated for this. In fact, the links aren't even affiliate links. This is just a nifty jumpsuit.