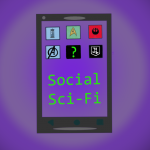 Hello, and welcome to another episode of the Social Sci-Fi podcast. I am proud to share part two of the VoltCon interviews. I had a lot of fun at the convention and was super excited to talk to Mama Voltron (Marika Levine) about her trip to Indiana and her love of Voltron. I also spoke to Chris Helms from Muncie, IN about his experience. In addition, I talked to several vendors about the show, and have linked their stores down below. Finally, at the end of this podcast are the full interviews I used as teasers in part one (link) with Tim Reynolds, Thomas Soltis, Marc Morrell & Greg Tyler, and Jeremy Correy.
Forgive the background noise, we were in a common area of the hotel at the convention and while I was able to get a lot of the noise out, corn hole is not a quiet game. Enjoy the interviews. Check out the vendors. If you are interested in attending or vending at VoltCon 2020 bookmark the site and like them on Facebook and Twitter to get announcements when they start opening things up for the next con.
Time stamps!
0:01 – 0:21            "Postcards" by Scott Holmes
0:21 – 0:47            Intro – Attendees
0:47 – 3:54            Attendee – Marika Levine A.K.A Mama Voltron
3:55 – 8:10            Attendee – Chris Helms
8:11 – 8:18            Intro – Vendors
8:19 – 12:26          Vendor – Alexandria
12:27 – 16:26        Vendor – Anistasia
16:27 – 20:34        Vendor – Archie – Dynamic Sketch
20:35 – 24:20        Vendor – Zova
24:21 – 24:36        Intro – Sponsor, graphic artist, and guests
24:38 -30:05         Comic Carnival – Tim
30:06 -38:38         Samoht Lion – Thomas Soltis
38:39 – 48:28        Let's Voltron Podcast – Marc & Greg
48:29 – 1:01:40     Jeremy Correy
1:01:41 – 1:01:48  Final words – Lizz
1:01:48 – 1:03:16 "Epic Cinematic" by Scott Holmes
1:02:06 – 1:03:10  Outro
Links of note!
Where to find the guests online!

Marika Levine / Mama Voltron
Alex Prater / Alaina Prana
 Anistasia Peterson / Shay the Space Lesbian
Archie Cunningham / Dynamic Sketch
Kajira / Kajira Kreations
Tim Reynolds / Comic Carnival
Thomas Soltis / Samoht Lion
Marc Morrell & Gregory Tyler / Lets Voltron Podcast
Jeremy Corray

Mentioned in this episode

How small is Delaware?
Voltron Store!!! Jeremy mentioned World Events Productions, but we did not say that they were also vending as the Voltron Store!!! Check out the link and if you didn't get your VoltCon T-Shirt click the link below 🙂

Where to find Lizz online!
Music featured on this Episode

Opening track: "Postcards" by Scott Holmes
Closing track: "Epic Cinematic" by Scott Holmes
All tracks off of Scott Holmes' "Documentary & TV Series", used under non-commercial/attribution license through the Free Music Archive (LINK).

Where to find the Podcast online!
Where to find Social Sci-Fi online!
Support the Podcast's Host
All notes for this episode can be found at http://geekinginindiana.com/ssf-y1sp3/
Thank you all for listening! As always, be excellent to each other, and to yourselves! We'll see you all soon!