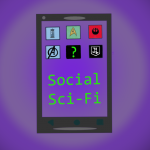 Hello again, and welcome to another episode of Social Sci-Fi.
Before we get started, I would like to apologize for how late this episode is coming to you and assure you that it was recorded before official quarantine began. It has been a rough couple of months. While I would rather be quarantined in the Gee Cave consuming media and creating content, I have still had to go to work.
It's been rough on my mental health and as much as I love editing this podcastn I couldn't do it. When you have four tracks that are about two hours and ten minutes long, that's a lot of pushing through depression to get finished. This feels like a HUGE accomplishment and I hope you enjoy it. There is a little lighthearted joking about what we thought was only going to be a few weeks of quarantine. We were taking it seriously, I deep cleaned and disinfected my house before having everyone over even though we were pretty certain we had not been exposed.  There were a lot of things we didn't know at the time, and had we known more it would have been discussed in a more serious tone.
Besides working and fighting an exhausting battle with anxiety and depression, I have been making masks because it I needed some for myself to feel safe leaving the house and wanted to make sure friends, family, and a few neighbors had them too. I am still making masks with my limited time because I need to feel like I am doing something to help, but I am trying to get back into doing the things I love because it is good for my mental health.
Take a short break from the stress and have a listen. If you haven't already listened to part one check it out here first. You're about to listen to part two of a special two part episode.  We watched and discussed the second three episodes of the Amazon Original miniseries Good Omens. We also discussed the book it was based on, Good Omens: The Nice and Accurate Prophecies of Agnes Nutter, Witch. Written by Neil Gaiman & Terry Pratchett and published in 1990.
Thanks for joining us, plug in your headphones and enjoy. Don't forget to check out the links for our guests and for other things mentioned in the episode.
Time stamps!
0:01 – 0:21 "Postcards" by Scott Holmes
0:20 – 2:27 – Introductions, intro to subject
2:28 – 9:09 – Book vs. Series
9:10 – 22:34 – Episode 4 Discussion
22:35 – 55:55 – Episode 5 Discussion
55:56 – 1:28:35 – Episode 6 Discussion
1:28:36 – 1:33:11 – Wrap up, where to find guests
1:33:12 – 1:34:35 "Epic Cinematic" by Scott Holmes
1:33:30 – 1:34:34 Outro
Links of note!
Featured in this Episode
Where to find the guests online!

Beckie
 Rachel
Xan
Where to find Lizz online!

Music featured on this Episode

Opening track: "Postcards" by Scott Holmes
Closing track: "Epic Cinematic" by Scott Holmes
All tracks off of Scott Holmes' "Documentary & TV Series", used under non-commercial/attribution license through the Free Music Archive (LINK).

Where to find the Podcast online!
Where to find Social Sci-Fi online!
Support the Podcast's Host
All notes for this episode can be found at http://geekinginindiana.com/ssf-y2e04/
Thank you all for listening! As always, be excellent to each other, and to yourselves! We'll see you all soon!