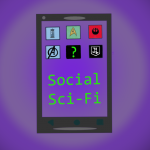 Hello again, and welcome to another episode of Social Sci-Fi. Or should I say welcome back?
Before we get started, I would like to apologize for having so little content in 2020. It was a really rough year for everyone. Eventually, we will get through this pandemic and find a new normal. For now, it means recording through Zencastr and not around the dining room table. It means a lot to me to be able to get a podcast up in January and the goal is to have one up each month.
First, I'm going to focus on some good things from last year. I did lots of yard work, because playing in the dirt and growing beautiful flowers makes me happy. When the heating element went out on the oven I learned that YouTube really does have a how-to video for everything. I bought the part online and fixed it myself. A little later in the year, the dryer wasn't drying well and I turned to YouTube again and learned how to take apart and clean my dryer and didn't need to replace anything. I did not get a bingo on my pandemic/quarantine card, but I did bake bread, have several Zoom meetings, and I got more quality time with my dogs.
So, wondering what the plan is for 2021? Year one was nearly all Doctor Who. I said last January that I wanted to change things up a bit and I had big plans, then I started off year three with Doctor Who again. No, this is not a Doctor Who podcast. This is Social Sci-Fi so we are going to talk about all kinds of science fiction and the social part, that is because I am a social worker and I see social issues everywhere I look. The world is on fire, there are too many problems and we can't fix them all. 2020 taught me to focus what is in front of me right now. Focusing on one thing at a time, nearly impossible task for this ADHD adult here. Luckily (or not) a lot of the problems are overlapping and require the same kind of care and attention.
Science fiction, believe it or not, has always been a place where we can tackle social problems in an entertaining way. If you don't see the social/political influences in early sci-fi, you weren't paying attention. So that is what we are going to do this year. We're paying attention. We're going to talk about old and new, popular culture and some cult classics. We'll have returning guests and some new ones. I's going to be a lot of fun.
If you're new here, check out season one and season two while you wait for new episodes. Thanks for joining us, plug in your headphones and enjoy. Don't forget to check out the links for our guests and for other things mentioned in the episode.
Time stamps!
0:01 – 0:18 "Storybook" by Scott Holmes
0:17 – 2:55 – Introductions, intro to subject
2:28 – 1:19:31 – Discussion
1:19:31 – 1:33:58 – Wrap up, where to find guests
1:33:12 – 1:35:25 "Epic Cinematic" by Scott Holmes
1:34:16 – 1:35:12 Outro
Links of note!
Featured in this Episode
Where to find the guests online!
Where to find Lizz online!
Music featured on this Episode

Opening track: "Storybook" from Carefree Music 2020 by Scott Holmes
Closing track: "Epic Cinematic" from Cinematic Background Music by Scott Holmes
All tracks used under non-commercial/attribution license through the Free Music Archive (LINK).

Where to find the Podcast online!
Where to find Social Sci-Fi online!
Support the Podcast's Host
All notes for this episode can be found at http://geekinginindiana.com/ssf-y3e01/
Thank you all for listening! As always, be excellent to each other, and to yourselves! We'll see you all soon!